Developer's Good Neighbor Policy Pays Off for Project
Sunday, January 28, 2018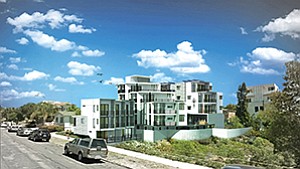 San Diego — When Tim Wright first saw the property at the end of Indiana Street on the edge of Balboa Park, he knew he wanted to do something different with it.
The $11.4 million new North Park apartment complex he's building at 3594 Indiana St., will combine old and new in a mixture of historic cottages with sleek modern structures.
Wright figures the project will appeal to young professionals working downtown who want to live outside of the downtown core, and to baby boomers who are downsizing — a demographic other developers also are hoping to attract.
"This was a chance to go out in the market and do something really cool," said Wright, founder and senior project engineer of Wright Management.
At the time, there were five 1920s-era cottages and two garages on the site.
"We knew that was a potential hurdle, so we started the conversation early," Wright said. "A lot of developers around town get the reputation of, it's all about slamming density into a neighborhood and trying to make as much money as they can and all that. If you really want a project to be successful, you've got to start talking to the community."
Soon after Wright bought the property, one of the cottages was severely damaged by a fire apparently started by transients.
The damage was so extensive that the cottage had to be razed, Wright said.
He sold two of the remaining cottages, which were moved to Jamul.
After meeting with community members, Wright came up with a plan to have the two remaining cottages at the northern edge of the property designated as historic and preserved as part of the new project.
"From a development perspective, it probably cost us time, but it really improved our relations with the neighborhood," Wright said.
With the cottages at the north end of the property, the new portion of the project designed by AVRP Skyport architects will include two separate buildings — a two story, 2,950 square-foot structure containing three apartments on the southeast portion of the property along Indiana Street and a four-story, 27,200 square-foot building with 18 apartments behind it.
The larger building includes a parking garage on the bottom level with spaces for 28 cars and four electric vehicle charging stations.
"The neighborhood didn't want us to put a lot of bulk density on the street," Wright said.
Apartments in the smaller building are 915-square foot lofts with one bedroom and one-and-a-half bathrooms.
Prev Next