FORECAST: TAX REFORM, LOW INTEREST RATES FUEL CAPITAL
Many Forces Driving Local Growth
Thursday, January 25, 2018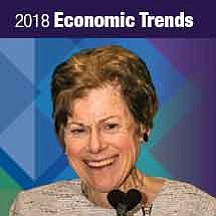 continued — The third element that will be impacting us all relates to the value of the dollar. It soared in 2015, and in 2016 it really hurt U.S. exporters. It came down last year.
In 2018 we may see about a 4 percent increase as the U.S. continues to actually lead the world economy, but it should still leave our exports relatively competitive.
U.S. Economic Outlook
Here in the U.S., individuals also will benefit greatly from a reduction in their income tax rates as well as a doubling of the standard deduction.
As a result we're looking for better growth in our economy in 2018. We're looking for real gross domestic product, GDP, to rise about 2.8 percent. So it will be more like a 3 percent economy this year than a 2 percent economy, and things will generally remain significantly stronger.
There won't be a lot of inflationary pressure because most of the impact of the tax cut will go to increasing productivity, increasing our capacity through higher business capital spending. As a result inflation is likely to settle down to around 2 percent, which will be pretty close to the Federal Reserve's overall target.
The Trump administration will be dominating the majority of members at the Federal Reserve Board. So what does this mean for interest rates? I think pretty much more of the same, an approach to gradually increase interest rates, but it is likely to be at a somewhat faster clip than we've seen in the last three years. We're looking now for about four rate hikes, quarter-point increments, maybe about one each quarter, maybe only three.
We had a 19-percent surge in the S&P 500 last year. The markets keep reaching record highs. I think at this point, yes, we could see a minor pull-back. But generally I think equities will continue to rise this year, perhaps around 6 percent.
California Picture
It should be a good year for California. We have a lot of forces in our favor. We Many Forces Driving Local Growth
FORECAST: Tax Reform, Low Interest Rates Fuel Capital
Dr. Lynn Reaser, chief economist of Point Loma Nazarene University's Fermanian Business & Economic Institute, gave her economic forecast for 2018 as the keynote address of the San Diego Business Journal's annual Economic Forecast event. Here are excerpts from her forecast and how she answered questions from the moderator and audience. The excerpts have been edited for clarity and brevity.