FORECAST: TAX REFORM, LOW INTEREST RATES FUEL CAPITAL
Many Forces Driving Local Growth
Thursday, January 25, 2018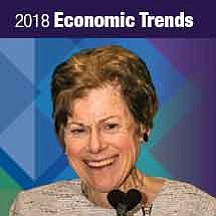 5 Recommendations For Your Business
Lynn Reaser, chief economist for Point Loma Nazarene University's Fermanian Business & Economic Institute, made five recommendations for local business to consider in 2018:
Study tax changes — Take a careful look at all the elements of the tax code changes. Yes, you may have to get your tax attorney, but take a look to understand what it means to you, your customers, and your suppliers.
Enhance cybersecurity — Beef up your cybersecurity. There is a high chance that if you have not already been attacked, you will be, and the costs can be very high.
Explore foreign trade opportunities — Look into the export market. Yes, it's a lot of hassle, but it could be very beneficial in the long run.
Take care of your employees — Further, particularly in this tight job market where everybody is going to be competing for your best employees, take care of your staffs. Make sure they are challenged and they are happy. They are your key asset.
Invest in your business — And finally, this is the year to invest in your business. Never has there been a better time. Interest rates will still be pretty low. The after-tax rate of return on investment is high. You have immediate benefits from expansion of any capital equipment. Investing in your business is critical to boosting productivity and remaining competitive in this very technology-driven marketplace.
San Diego — Dr. Lynn Reaser, chief economist of Point Loma Nazarene University's Fermanian Business & Economic Institute, gave her economic forecast for 2018 as the keynote address of the San Diego Business Journal's annual Economic Forecast event. Here are excerpts from her forecast and how she answered questions from the moderator and audience. The excerpts have been edited for clarity and brevity.
Global Outlook
Looking at some of the big trend picture elements that will affect the outlook for San Diego, I think there are three international trends that you should be aware of that will be impacting us.
First, for the first time in a decade, we are seeing a synchronized global expansion. All of the countries around the world, both developing and developed, are expanding at the same time.
The second force to keep in mind is that oil prices, which have been on a wild ride up and down, now seem to be stabilizing in a range of about the high 50s or low 60s. If they get too high, we will see U.S. shale producers, who are now the new swing producers in the world, step up their production and bring those prices down. So we are kind of in a period of, I think, relative stability.
Prev Next