HEALTH CARE: EXPECT WELLNESS PROGRAMS TO INCREASE IN POPULARITY
Rising Premiums Continue to Drive Change in Health Plans
Sunday, January 21, 2018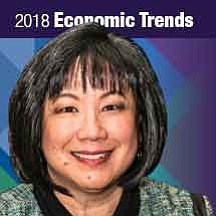 San Diego — Lynette Seid, Area Chief Financial Officer for Kaiser Permanente, spoke about trends in health care coverage, the future of the Affordable Care Act and how small group employers are under pressure to retain health care coverage as benefit while finding ways to minimize costs.
Sources of Health Care Plans:
The majority of Americans are still covered by employers — 47 percent of companies still provide health care insurance for their employees, spouses and dependents. About 21 percent of the population is actually getting insurance through Medicaid (here in California that would be Medi-Cal), 18 percent are on Medicare and about 5 or 6 percent are getting insurance through the exchanges.
We still have almost 9 percent uninsured in the country. That is a big number, about 28 million people. We were up to 45 million uninsured, so the Affordable Care Act has done a great deal in bringing insurance plans to the uninsured in the United States.
Premiums Still Increasing:
The cost of premiums continues to outpace both the inflation rate as well as workers' income. From roughly 2011 to 2016, health insurance premiums rose about 20 percent and employees' wages rose about 11 percent. During that same time, we saw a very small inflation rate, probably around 6 percent.
Some of the other trends that we're seeing from large groups are single-digit premium increases.
Cost consciousness — affordability — probably is the No. 1 priority on every health care system and health plan agenda.
We have seen margins erode in health care organizations, and they are worsening, and you see a lot of news about affordability plans.

In the past it meant we're going to raise premiums. Well, we can't do that anymore. You have said we cannot do that anymore. So we're going to have to work together to figure out better and smarter ways to do things, whether we use technology, whether we do simple things, such as telephone visits.
Consumer-Based Technology:
The big trend for us is going to be in technology-enabled conveniences, being able to bring your smartphone anywhere and get whatever you want, such as at-home devices that can just log right into your medical record.
Future of the ACA:
Regarding the future of the Affordable Care Act, 2017 was really interesting to watch. The U.S. was unable to come to any agreement as to any changes to the ACA.
The only one agreement that came through was via the tax reform. The individual mandate is dropped. So people don't have to have insurance.
Prev Next