FINTECH: PLATFORMS SEEN AS COMPLEMENTARY; PLAN TO KEEP S.D. OFFICE
Fintech LoanHero Acquired By Atlanta Co.
Sunday, January 21, 2018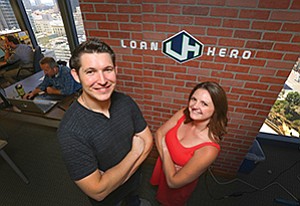 continued — Joining Forces
But a few months ago, a discussion about enabling customers like those to whom LendingPoint loans to use the LoanHero platform turned into talks about how the two teams could blend their respective areas of expertise to attack a larger market together, said LendingPoint cofounder and chief strategy officer, Juan Tavares.
He said the management teams of the two companies found common cause in their focus on profitability, not just volume.
Slink, LoanHero's chief product officer, said as LoanHero grew, its challenge was to find enough lenders to accommodate its customer base.
"What online lenders are doing is spending a lot of dollars with partners, sending out flyers and saying we've got this loan deal for you," Slink said. "Part of (our) strategy was … what lenders are out there that could benefit from deal flow like ours?"
And as LoanHero searched for additional lenders, LendingPoint, a balance sheet lender, looked for avenues through which it could offer its loans to the point-of-sale market.
The acquisition comes at a time when banks are snapping up fintechs, fearful of losing business to innovators.
A 2017 PricewaterhouseCoopers' report on fintech found 88 percent of participants in a global survey of financial services and fintech executives indicated concern about risk to their business due to competition from standalone fintech companies.
And as major financial players have begun directing more attention at companies effecting change in the industry, the point-of-sale market has also drawn more interest.
In an about-face from when LoanHero launched, "banks are really having more of an appetite to get involved," Slink said. "Now people are saying, 'how do I get into that space?' What I've always liked about our business model is we always understand the need for the loan, and we have the ability to create products around that."
Maintaining San Diego Office
For LendingPoint, that knowledge will ease its way into the space, thanks to LoanHero's experience working with merchants looking to increase sales and ticket size by offering loan options to customers, Tavares said.
The combined company, which is maintaining LoanHero's San Diego office, has about 150 employees.
"We were hoping, as we always do, that they would grow into a big company, but as so often occurs, acquisitions do come along," said Moore, at EvoNexus. "Their work ethic was off the charts, and success is a (combination of a) lot of hard work and timing … so we're pleased with what they've done."
Prev Next