WORKFORCE: WAGE GROWTH WILL AVERAGE 3%, MORE FOR THE TECH SECTOR
Employers Face Challenge In Attracting, Retaining Talent
Sunday, January 21, 2018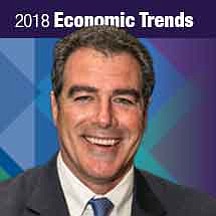 San Diego — Brett Good, Senior District President of Professional Staffing Services, Robert Half, Southern California and Arizona, talked about how the biggest challenge for companies in 2018 will be attracting and retaining talent. He also talked about work environments and perks and benefits.
Battle for Talent:
A survey from Career Builder, a national survey that came out this morning, said nearly half — 48 percent of the companies — plan on hiring during the first six months of 2018, and that 77 percent of human resource professionals cited a lack of skills as their No. 1 challenge.
In terms of unemployment for college educated professionals, the rate sits at 2.1 percent, and it is only going to go down. As an employer, your life in building teams and retaining teams in 2018 will be more challenging.
High Job Turnover:
The JOLT numbers, the Job Openings and Labor Turnover statistics, indicate that the quit rate is 2.2 percent. The high watermark pre-recession mark was 2.3 percent, so we're almost at that level. Take that 2.2 or 2.3 percent times 12 months and you are looking at 26 percent or 27 percent voluntary quits in 2018. And so, imagine one of four people in your organization leaving.
The competition in San Diego right now when you look at some of the factors that we're dealing with, whether it is housing, commutes, things of that nature, employees and candidates will have a multitude of options. Your challenge is going to be: What can you do to keep them in the family?
What Employees Demand:
Right now, telecommuting and flexibility are important to job candidates. Some of the legacy organizations think having the opportunity to telecommute, to have remote access to your ERP or CRM system is groundbreaking. No, it is quite commonplace right now.
When I think of employment, I think of three buckets:
Bucket No. 1 is compensation, benefits, perks, things of that nature.
Bucket No. 2 is professional growth and development. What are you providing the employee to help them develop professionally? That is really what a lot of up-and-coming workers are looking for: "How can you develop me?"
Bucket No. 3 is the quality of life and work-life balance, and part of that is facilities. So what kind of facilities am I working in? Is it cool, hip, conducive to group work, or is it just sitting in a cubicle and you prairie dog every now and then and off you go.
But I think organizations need to tackle all three buckets as we move forward.
On Wage Growth for 2018:
Within the professional sector right now, when we see counteroffers, we are seeing a multiple offer environment. It is not uncommon that we are seeing 10- to 15-percent increases in some of the skill sets.
There are actually new jobs that are emerging right now. In the salary descriptions we have, we have 38 new titles and positions listed this year that we didn't have last year. Most are in the technology and digital media space, which are primarily higher-income areas.
Within the professional sector, I'm looking really more for that 4- to 5.5-percent wage growth depending on the skill set you are in.
Follow the Law:
Be familiar with Assembly Bill 168, which went into effect on Jan. 1, precludes you from asking questions around an employee's prior compensation, which is inclusive of benefits.
There are other impactful changes as well, so make sure your hiring managers are aware of them.