INSURANCE: MANY COMPANIES ARE BUYING MORE CYBER COVERAGE
Disasters, Harassment Claims Will Lead To Increases In Rate
Sunday, January 21, 2018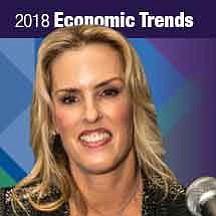 San Diego — Trindl Reeves, Principal and Chief Sales Officer for Marsh & McLennan Insurance Agency LLC, spoke about record property and casualty claims, cybersecurity insurance, harassment claims and workers' compensation rates.
Last year was the worst year on record as far as insured loss. Typically the U.S. contributes to about 30 percent of the global insured loss in the whole world.
This year we're at 50 percent. Just to give you some perspective, 9/11, which was a huge event in the insurance market, there was $32 billion in loss. Hurricane Katrina in 2005 was a $75 billion in loss. Hurricane Harvey, and that does not include hurricanes Irma and Maria, was $85 billion.
Expectation of Rate Increases:
In the first week of this year, we see property insurers pushing rate increases, and we don't even have the justification yet for doing it. So it is very important that your broker is working hard to have them justify why they are taking an increase.
For catastrophic areas, like wind, flood, Florida, Houston, those areas, you will see dramatic increases, 20 percent, maybe more in property.
For non-catastrophic areas, you can expect a flat to 15-percent increase.
In California, with the wildfires, if we see insurers start to pull out of California, not wanting to insure here anymore, that will definitely impact us and cause rates to go north pretty quickly.
Cyber Insurance Remains Hot Topic:
One of our industry associations said insurance brokers say there is an 81 percent increase in demand for cyber coverage. Most clients have cyber, but they are actually buying more coverage. They are broadening their coverage.
If you don't, you should really look at it. It is much more inexpensive than you might think it is.
Harassment Claims:
We have seen a rise in the harassment allegations. Toward the end of the year, every day there was a new event. Even before that, the increase in EEOC complaints and lawsuits had doubled from 2016 to 2017. Now with the increased visibility we are expecting claims to really go through the roof as far as the frequency of events. We think there is a rate increase coming in the employment area probably toward the end of '18, early''19.
Workers' Compensation:
We have had 16 quarters of decreasing insurance rates pretty much across the board, except for auto, but this year we'll see definitely a push to increase in the property area. We are expecting probably a 6- to 8-percent rate decrease in workers' comp.
Just since 2015 we have had over 30-percent rate decreases, which is unheard of in California. So the reforms that passed a few years ago are actually making an impact positively on the system, which is great news.
Marijuana's Impact on Insurance Rates:
We took on 20 new clients in the past two months of the year in various areas — growers, distributors, life science companies that have cannabis in their products, and starting this week we have kind of shut that off, because we think there is going to be some change in regulation nationally.
So what's interesting in California, Gov. Jerry Brown actually started a new insurance company called Golden Bear, for real, and its sole purpose is to insure cannabis companies. So there is that out there.
But it will be very interesting to see how this takes off. There is a lot of money in the space, but I think there is some additional regulation that is going to be problematic coming down.