Chairman to Leave Cubic Corp. Board
Sunday, January 21, 2018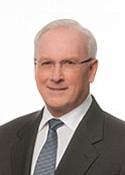 Walter C. Zable, chairman of the board at Cubic Corp., is leaving after 54 years as a company employee and board member. Zable, son of founder and longtime CEO Walter J. Zable, will leave the board after 42 years at the annual meeting on Feb. 19. Walter C. Zable owns 7.3 percent of the company's outstanding shares.
Cubic (NYSE: CUB) has nominated David Melcher, a defense executive and retired lieutenant general in the U.S. Army, for a seat on the board.
"Dave will be a strong asset to our board with his exceptional leadership and industry expertise," said CEO Brad Feldmann. "In particular, his experience and knowledge in C4ISR from leading Exelis Inc. will be beneficial as we continue to strengthen our Cubic Mission Solutions business division." Mission Solutions is part of Cubic's defense business. C4ISR stands for command, control, communications, computers, intelligence, surveillance and reconnaissance.
The elder Walter Zable founded the company in 1951 and died in 2012.