Vice Adm. DeWolfe Miller III is New Commander Naval Air Forces
Friday, January 12, 2018
The U.S. Navy has a new Air Boss.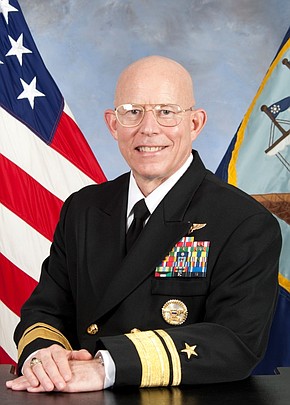 Vice Adm. DeWolfe Miller III relieved Vice Adm. Mike Shoemaker as Commander Naval Air Forces in a ceremony Jan. 11 at Naval Air Station North Island. The event was also Shoemaker's retirement ceremony.
Miller is a native of York, Pennsylvania, and a 1981 graduate of the U.S. Naval Academy. As a two-star admiral he worked on the chief of naval operations' Pentagon staff as director for air warfare. He received his third star prior to Thursday's ceremony.
Shoemaker became the Navy's seventh Air Boss in January 2015 and retired after 36 years of naval service. The Navy did not announce Shoemaker's plans after retirement.
Commander Naval Air Forces is responsible for the material readiness, administration and training of all naval aviation commands and for providing operationally ready aircraft squadrons and aircraft carriers to the fleet.
Miller served in a squadron aboard a San Diego fixture, the carrier the USS Constellation. He was second in command on the USS Carl Vinson and commanding officer of the USS George H.W. Bush. He has accumulated more than 4,000 mishap-free flight hours and 877 carrier-arrested landings.