TECH: COMPANIES FEAR INCREASE IN COSTS; OTHERS DISMISS CONCERNS
Some Health Care Cos. See Peril in Net Neutrality Repeal
Originally published January 7, 2018 at midnight, updated January 7, 2018 at midnight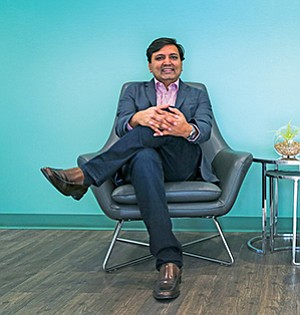 San Diego — The repeal of net neutrality regulations drew opposition from big tech players like Google and Netflix. Also fearing impacts of the move: some San Diego health care businesses.
The Federal Communications Commission in December voted to eliminate net neutrality rules, which make it illegal for internet service providers (ISPs) to block or slow down content, or create "fast lanes" for companies willing to pay extra to speed up content delivery.
Critics say this will hurt the sharing of health records, as well as telemedicine, while backers, including the head of the FCC, say the opposite.
Vishal Verma is the CEO of NucleusHealth, a San Diego-based company that provides cloud medical image management and teleradiology services to 2,800 facilities across the United States. He assumes the company would have fast lane access to ensure the smooth delivery of records, loosely estimating this could run an additional $10,000 or more monthly, due to serving so many health facilities and having 60 radiologists working remotely.
"Are ISPs going to go to health care companies like ours and say, 'you're streaming medical images and that has a premium.' And the question is whether we're going to be approached by every ISP out there," Verma said.
If the company was denied faster service and even slowed down, increased imaging turnaround times could have huge ramifications. Every second is critical for emergency rooms, for instance.
"Which would jeopardize our contracts and could result in significant losses, potentially millions if delays were severe," Verma said.
A Worry for Smaller Companies
The FCC vote could also threaten low-cost telehealth services, putting smaller companies in the field at a disadvantage compared to larger ones, critics of the FCC vote say.
"The repeal allows internet service providers to apply tiered pricing and throttle online access for those who would not be able to afford the increased cost of opting into faster internet lanes," David Lortscher, CEO and founder of Curology, wrote in an email.
The San Diego company provides acne treatment prescriptions after an online diagnosis. Curology was formed to quicken diagnosis and delivery, especially in rural areas.
"With only 10,000 dermatologists in the US, access to expert care continues to be a problem, especially in rural areas. Prohibitively high internet costs could burden digital health services and further exacerbate the health disparities between high- and low-income as well as urban and rural individuals," Lortscher wrote.
Telehealth demands high levels of bandwidth for voice and data transmission. So, steeper internet costs or throttled speed would mean fewer could access Curology's services. In addition, Lortscher stated concerns over service providers restricting reliable access of patient data stored in the cloud.
Prev Next