Northrop Is Game to Try Various Paths To Innovation
Originally published January 7, 2018 at midnight, updated January 7, 2018 at midnight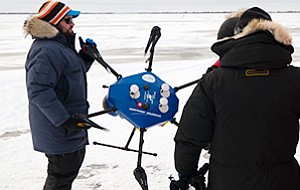 San Diego — Holy Hogwarts! Northrop Grumman Corp. asked its engineers to build an autonomous aircraft that can play quidditch, the aerial game that wizard Harry Potter and his friends play in the young adult novels of J.K. Rowling.
Actually — to borrow a phrase from another English author — there is a method to Northrop's madness.
While some might see a waste of perfectly good engineering resources, managers at Northrop Grumman (NYSE: NOC) see such part-time projects as a way to develop young engineering talent — and get a good idea of its young employees' capabilities.
One engineering project recently offered to certain Northrop employees was the chance to build an unmanned aircraft that can detect polar bears and create maps of sea ice — that is, the bears' changing habitat. It came with a two-week trip to icy Hudson Bay, Canada.
For the second year in a row, engineers from several Northrop Grumman offices, including Rancho Bernardo, took part in the project, getting a chance to work with an outside client, the nonprofit San Diego Zoo Global.
Engineers worked half-time on the project over four months.
A four-month project is unheard of in defense contracting, and it offers an excellent exercise in rapid prototyping, Northrop officials said. Engineers came up with a minimum viable product quickly, and then cycled through several iterations of the design before putting it to work in the field.
Between Nov. 12 and Nov. 25, the engineers lived in a cramped cabin on the ice several miles outside Churchill, Manitoba, Canada — which is famous for its polar bear population. The Americans had an impromptu Thanksgiving dinner there.
During that time, the aircraft flew 11 missions, gathering data with four integrated sensors that operated simultaneously (an engineering challenge in itself). What's more, engineers had to make sure the craft could work in temperatures of -30 degrees Fahrenheit.
Often, one engineer told me, Northrop Grumman employees can't talk about what they do at the office. Exercises in quidditch and polar bear habitat monitoring offer something to discuss in depth at the dinner table.