RETAIL: STANDING DESK AIMS TO BE WELL DESIGNED FUNCTIONAL AND AFFORDABLE
Two Inventors Are Helping Those With Desk Jobs to Rise Up
Wednesday, February 28, 2018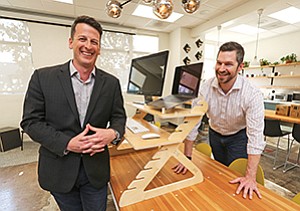 San Diego — Standing desk setups are often associated with people in technology, but Readydesk's conversion unit is nearly as low-tech as they come.
That's apropos for its inventors: Readydesk co-founders Joe Nafziger and Ben Larson are childhood friends who grew up together on farms in rural Illinois before decamping for the West Coast and eventually landing in careers in marketing and advertising, respectively.
After seven years of working in an office, Nafziger said he became frustrated by the amount of time he spent seated while working. So he built himself a jury-rigged shelf from pine boards and nails for his computer so he could work while standing.
Although the concept wasn't as widespread as it is today, it wasn't that standing desks weren't yet on the market.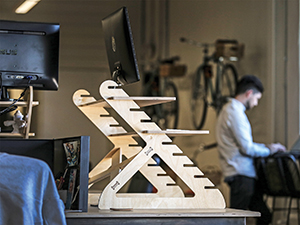 The Flaws
"Everything was way too expensive, too big and the majority didn't even give you proper posture," Nafziger said.
Without spending hundreds and convincing your boss to let you replace your existing desk with another, getting a standing desk can be a hard sell for an office worker, he said.
Larson, a marketer at HP inspired by his part-time studies at UCLA's business school, realized others might have the same dilemma and be searching for a product with which to solve it.
"We started sketching, working with designers and chiropractors, and got this adjustable thing," Nafziger said.
Prototypes
They didn't arrive directly at their eventual design. One version was cut from aluminum walkers.
"We went to Joe's grandma's garage in Poway, hacked the (the walkers) apart and tried to put one together," Larson said. "It looked ridiculous."
Friends and co-workers were tapped to test prototypes. Working with engineers, the pair determined a version made from wood — just like Nafziger's one-off — would be the best option.
The 14.9-pound desktop converter, made of birch wood, has two adjustable shelves, to hold two monitors or a monitor and a laptop. It can support up to 75 pounds and accommodate people from 5 feet to 6 feet 3 inches tall.
A Kickstarter campaign in 2014 pulled in nearly $31,000 from about 160 supporters.
"Obviously there's demand for this — and that was four years ago," Nafziger said. "We've been in the black since day one."
From a shop in El Cajon that agreed to cut the pieces they would need to put the desks together, Larson and Nafziger would load up their cars, and, with the vehicles' insides covered in sawdust and the chassis sitting low to the ground with the weight of the wood, haul it off to be assembled.
Prev Next