MEDICINE: BIG PLAYERS BAIL, BUT MIDSIZE COS. AIM FOR NEXT BIG THING
Neuroscience May Belong to the Nimble
Sunday, February 25, 2018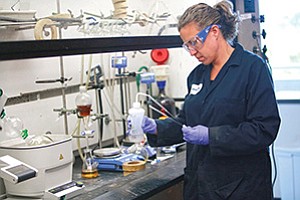 San Diego — Amid big pharma's waning commitment to neurological disorders like Alzheimer's, San Diego startups and midstage biotechs see opportunity.
Among them: Neurocrine. In May, the company released a treatment for tardive dyskinesia, a nervous system disorder that causes uncontrollable stiff, jerky movements in the face and body. A decade in the making, its drug Ingrezza generated $116.6 million in sales over eight months, smashing analysts' expectations and spurring a company comeback.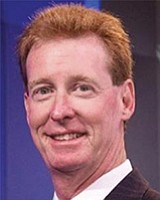 CEO Kevin Gorman believes neuroscience — identifying disorders afflicting the brain and how to treat them — is due to take off. Researchers keep inching closer to grasping the molecular basis of these diseases.
"The brain is very much a black box. I kind of look at neurology as being where immunology was about 10 to 15 years ago. You're only beginning to work out the brain pathways," Gorman said.
San Diego companies are also tackling the elusive goal of treating Alzheimer's and Parkinson's — a huge unmet medical need with the aging population. Large pharmaceuticals poured billions into these areas with little to show.
Pfizer, headquartered in New York City, announced last month it would lay off 300 workers and leave the space, the latest among its peers to do so. (The company set up a corporate venture to invest in outside neuroscience companies.)
"Damn near every big pharmaceutical company has banged their head on this and not gotten any return. So they've said to hell with it, I'm going to do something else," said Jeff Friedman, board member of the San Diego Chapter of Tech Coast Angels.
San Diego Well Positioned
Friedman and other observers say San Diego is well positioned to play a leading role in the space. The region has a cluster of academic neuroscience programs and contract research organizations — not to mention startups with a singular neuroscience focus.
"The big money is gun shy. At the same time, science has really progressed, and there are many viable therapeutic targets that are worthy of investment, certainly in the startup stage. I'm not the only person who recognizes this," Friedman said.
In the second half of 2017 only six neuroscience companies in Southern California applied for Tech Coast Angels funding. The group sees a subset of startups, but Friedman said this indicates a fairly small number of upstarts in the field. For now, at least.
"We would really like to see more companies, more entrepreneurs and more capital thinking about, in particular, neurodegenerative conditions," he said.
Data are not kept on neuroscience investment in San Diego. As one metric, the National Institutes of Health allocated $1.35 billion nationally into Alzheimer's research in fiscal year 2017, nearly triple that of four years prior.
Such funding benefits research organizations like Sanford Burnham Prebys Medical Discovery Institute, which has spun a number of San Diego neuroscience companies.
A Spin-Off
This includes AivoCode, dedicated to treating brain injury, Alzheimer's and other neurodegenerative disorders.
Aman Mann, the company's co-founder and vice president, led a Sanford Burnham study that identified a peptide that could detect Alzheimer's earlier, as well as potentially deliver drugs to diseased areas of the brain. The promising results were published in November.
The technology, still in the preclinical phase, was licensed to AivoCode.
"It's actually a large critical mass of neuroscience academic research in San Diego going on. That naturally leads to companies spinning out," Mann said.
Skeptical investors are starting to see potential, he said. He likened the promise to oncology years back.
The Next Big Thing
"The next big thing really could be neuroscience," he said.
Sanford Burnham researcher Nicholas Cosford is advancing a new class of drugs toward clinical studies aimed at treating nicotine and cocaine dependence.
"I'm also the deputy director of our cancer center. So, across the board — cancer, neuroscience, infectious diseases — we really want to move this new breakthrough biology and turn it in medicine," he said.
His team identified glutamate neurotransmission in the brain as linked to addiction and substance abuse.
A $10.8 million grant last September from the National Institute on Drug Abuse will fund preclinical drug work, in a partnership between Sanford Burnham, UC San Diego and Camino Pharma.
Mid-stage San Diego biotechs have entered neuroscience, too.
Last fall, Carlsbad's Ionis Pharmaceuticals began human testing of a mild Alzheimer's drug.
The company, which did not return a request for comment, brings an established record. More than a year ago it released Spinraza, a spinal muscular atrophy drug that industry analysts estimate could become a $2 billion franchise.
Big Investment, Small Returns?
But there are sobering reminders of the field's difficulty. San Diego's Dart Neurosciences two months ago laid off 265 employees and closed its doors. Through gene discovery and other means, it sought to identify small molecules for brain disorder therapies.
"The neuroscience space has been frustrating from the standpoint of a lot of work being done in the clinic, a lot of money being invested and not much to show for it," said Joe Panetta, president and CEO of Biocom, a life sciences group based in San Diego.
Yet there's hope in his view. Panetta said some big pharmaceuticals remain in the space like New Jersey-based Celgene, and a healthy amount of grant dollars flowed in the last two years to early-stage research in San Diego that could translate into business deals.
Of note, the California Institute for Regenerative Medicine last year awarded $2 million to UC San Diego researchers for neurology treatment of the Zika virus.
The same organization gave a $2.4 million grant to The Scripps Research Institute and Scripps Clinic for testing of stem cell therapy for Parkinson's disease.
Philanthropists as well have plunked down cash to push research out of the lab.
Philanthropy Fills Funding Void
"There is an intriguing reconfiguration underway within brain research. Although some big pharma companies are cutting their internal R&D programs, a host of innovative philanthropists are stepping up to fill the void. For example, the founders of Microsoft, Google, and Facebook have all recently pumped tens of millions of dollars into the field," said Patrick Brannelly, program director of the Tau Consortium, based in Menlo Park.
The consortium commissions research and drug discovery for progressive supranuclear palsy, or PSP. It's named after the tau protein, thought to be at the core of brain diseases such as Alzheimer's.
The consortium and the Alzheimer's Association in June will award $3 million to innovative neuroscience research. Out of 135 applications from across the world, seven were from San Diego — three biotechs, three from UC San Diego Health and one from a research institute.
"San Diego has a particularly strong clustering of academic neuroscience programs, contract research organizations, and a vibrant, highly entrepreneurial biotech sector," Brannelly said.
Gorman, CEO of Neurocrine, agrees.
"There are still some major pharmas that are involved in neuroscience. But I really think this is going to be one where it's going to be the midsized biotech companies like ourselves, who have built up an expertise over the years but we're still small and nimble," he said.