MEDICINE: BIG PLAYERS BAIL, BUT MIDSIZE COS. AIM FOR NEXT BIG THING
Neuroscience May Belong to the Nimble
Sunday, February 25, 2018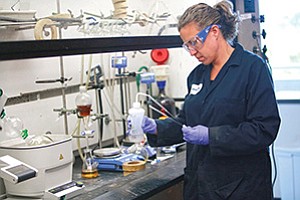 San Diego — Amid big pharma's waning commitment to neurological disorders like Alzheimer's, San Diego startups and midstage biotechs see opportunity.
Among them: Neurocrine. In May, the company released a treatment for tardive dyskinesia, a nervous system disorder that causes uncontrollable stiff, jerky movements in the face and body. A decade in the making, its drug Ingrezza generated $116.6 million in sales over eight months, smashing analysts' expectations and spurring a company comeback.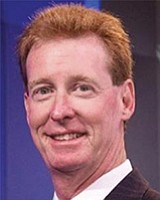 CEO Kevin Gorman believes neuroscience — identifying disorders afflicting the brain and how to treat them — is due to take off. Researchers keep inching closer to grasping the molecular basis of these diseases.
"The brain is very much a black box. I kind of look at neurology as being where immunology was about 10 to 15 years ago. You're only beginning to work out the brain pathways," Gorman said.
San Diego companies are also tackling the elusive goal of treating Alzheimer's and Parkinson's — a huge unmet medical need with the aging population. Large pharmaceuticals poured billions into these areas with little to show.
Pfizer, headquartered in New York City, announced last month it would lay off 300 workers and leave the space, the latest among its peers to do so. (The company set up a corporate venture to invest in outside neuroscience companies.)
"Damn near every big pharmaceutical company has banged their head on this and not gotten any return. So they've said to hell with it, I'm going to do something else," said Jeff Friedman, board member of the San Diego Chapter of Tech Coast Angels.
San Diego Well Positioned
Friedman and other observers say San Diego is well positioned to play a leading role in the space. The region has a cluster of academic neuroscience programs and contract research organizations — not to mention startups with a singular neuroscience focus.
"The big money is gun shy. At the same time, science has really progressed, and there are many viable therapeutic targets that are worthy of investment, certainly in the startup stage. I'm not the only person who recognizes this," Friedman said.
In the second half of 2017 only six neuroscience companies in Southern California applied for Tech Coast Angels funding. The group sees a subset of startups, but Friedman said this indicates a fairly small number of upstarts in the field. For now, at least.
"We would really like to see more companies, more entrepreneurs and more capital thinking about, in particular, neurodegenerative conditions," he said.
Prev Next