Name Emphasizes Bigger Scope of San Ysidro Health's Mission
Sunday, February 25, 2018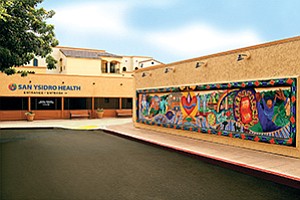 San Diego — San Ysidro Health Center, a local nonprofit organization providing high quality, compassionate, accessible and affordable health care services for all, has announced a new name and brand identity and is now San Ysidro Health.
The year-long rebranding campaign was made to reflect the growth and expansion that has taken place for nearly 50 years. The word "center" was removed to reflect the expanded, comprehensive services offered and increased patient base it serves. The new name and logo pay homage to the organization's humble beginnings and help identify the service areas and communities served throughout San Diego County. Along with a new name and logo, San Ysidro Health also rolled out a new mission statement.
"Our patients relayed they did not identify some of our services/programs connected to their comprehensive care," Kevin Mattson, president and CEO, San Ysidro Health said. "With this change we hope to make our health care services more convenient and identifiable to the thousands of families we serve at our 34 clinic and program sites."
San Ysidro Health provides innovative care to over 92,000 lives in our care through a vast and integrated network of 34 program sites across San Diego County
• • •
Salk Institute for Biological Studies and University of California, San Diego School of Medicine researchers have been awarded a $1.5 million grant by the Department of Homeland Security for a three-year study to see whether restricting food intake to a 10-hour window can improve firefighters' well-being.
Satchidananda Panda, a professor in Salk's Regulatory Biology Laboratory and co–principal investigator of the new study said firefighters are at high risk for many chronic diseases because of how shift work disrupts the body's natural rhythms.
Panda, whose laboratory studies the molecular bases of circadian timekeeping in mammals, previously found that restricting the access of lab mice to food for eight to 10 hours a day resulted in slimmer, healthier animals compared with mice that ate the same number of calories around the clock. Preliminary studies in humans suggest similar health benefits of such "time-restricted eating."
"We want to understand if we can counter some of the disruption with simple changes not only to what firefighters eat but also when they eat." Panda said.
The study will be a close collaboration between Salk, UC San Diego and the San Diego Fire-Rescue Department, which has a robust wellness program.
"The wellness of our employees is our top priority," San Diego Fire-Rescue Chief Brian Fennessy said. "We are hopeful this study will give our members information they can apply to their lives, which will reduce the incidence of chronic disease that firefighters are prone to."
Prev Next