MEDICINE: SYSTEM IS BETTING ON TREATMENT STRATEGIES SUCCESS
UC San Diego Health Selects Model, Launches Its ACO
Thursday, February 22, 2018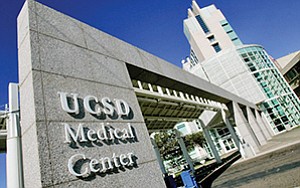 continued — A risk is the possibility of the Trump administration weakening or canceling ACOs. Parts of it have ties to the Affordable Care Act, which has been under siege. Maysent believes it's unlikely the model will be terminated, noting ACOs have strong bipartisan support.

A big part of the initiative, Maysent said, is pooling data that's sliced and diced. Then it's a matter of drawing up treatment strategies.

"With the diabetic population that's attributed to us, we can create education programs, health coaches and outreach to drive targeted strategies to help them improve their care," she said.
Competitors in the region have already tried ACOs or are currently participating in the model, like Scripps Health.
State of the Industry
"It's the state of our industry now. If you can't figure out how to participate in some meaningful way, you really run the risk of being isolated in the market," Maysent said.
Maysent believes the organization's ACO separates itself because its enrollees have access to Moores Cancer Center and other cutting-edge care.
"If you're going to choose, for me personally, I would choose where I knew if something really bad happened, if I got a really bad diagnosis, then I knew I would be able to get to the right physician," she said.
She added UC San Diego Health has spent huge sums building out cancer infrastructure here, making catching up tough.
3-Year Extension Option
At the conclusion of the program, the health district holds a three-year extension option.
UC San Diego Health's venture is worth watching, said Shawn Pynes, principal at Marsh & McLennan Insurance Agency.
"Everyone hopes that innovation and experimentation will lead to a more integrated delivery of care and the containment of health care costs. If the financial results prove promising, this strategy could be applied more broadly to both the Medicare and employer markets. That would ultimately hold down health care cost for the majority of the population. We are cautiously optimistic," Pynes wrote in an email.
Risk of Failure
Of a pioneer group of ACOs nationwide, only about 25 percent both met quality thresholds and achieved enough in cost reductions to obtain shared savings. That's according to Garrett Schmitt, managing editor of ACOExhibitHall.com, a research hub for organizations considering ACOs.
"Success comes back to two things, mainly: physician engagement and patient engagement," said Schmitt.
It's not uncommon, he said, for patients and even physicians not to realize they're part of an ACO. For the latter, it's critical they understand early the triple aim of ACOs — care, health and cost — and how to manage downstream costs.
At first blush, ACOs bear resemblance to failed HMO experiments in the 1990s, in that there's an emphasis on building physician networks and proactive care.
But he added the technology, among other things, wasn't in place 20 years ago.
"There was not a focus on reaching out proactively and doing what they call patient stratification, or disease registries where they actually triage patients by how expensive they are," Schmitt said.
Prev Next