MEDICINE: SYSTEM IS BETTING ON TREATMENT STRATEGIES SUCCESS
UC San Diego Health Selects Model, Launches Its ACO
Thursday, February 22, 2018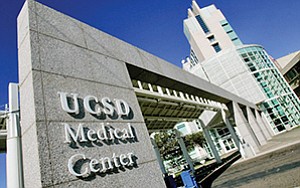 San Diego — UC San Diego Health has launched a Medicare program that brings the potential for health system savings — that is, if it can meet care and cost requirements.
Jan. 1 marked the start of the health system's Medicare Accountable Care Organization, or ACO, its first foray into a space well-known to competitors. The system's provider network seeks increased coordination between physicians and others, along with less duplication and hospitalization.
For UC San Diego Health, the program also carries risk. Namely, the health system would share in losses for under-performance.
On Feb. 6, UC San Diego announced it was designated as one of 561 national Medicare ACOs. Its three-year program encompasses not only UC San Diego Health faculty and facilities, but also an affiliated network of community hospitals and community primary care providers and specialists.
"We selected a model that allows us to work together across the network, to create quality, control utilization and to create better value," said Patty Maysent, CEO of UC San Diego Health.
Emphasis on Outcomes
ACOs put more of an emphasis on outcomes, as opposed to a traditional "fee-for-service" model that bases payments on the number of tests and procedures rendered. The idea, put simply, is better care, not more of it.
More than 31,000 Medicare beneficiaries in San Diego, Riverside and Imperial counties have been assigned to UC San Diego Health's ACO, the third largest network in the state. Based on historical data, it's expected their care would run $400 million annually.
In the ACO's first year, UC San Diego seeks to shave 2 percent to 5 percent off this baseline, or a savings of $8 million to $20 million, which would be split 50/50 with the federal government. Savings up to 10 percent would be shared 50/50.
To share in savings, the health system must cut costs by at least 1 percent, while achieving care thresholds established by the Centers for Medicare & Medicaid Services.

"We need to be able to improve care, but it doesn't set the bar so high that we'll fail," Maysent said.
But if expenses come in higher than $400 million, then UC San Diego Health is on the hook for 30 percent of the losses, up to 4 percent of the baseline.

UC San Diego Health is poised to see a favorable reimbursement rate.
It will be reimbursed at standard Medicare rates in year one, but would receive an additional 5 percent reimbursement in subsequent years.
Prev Next