ENERGY: CO. AIMS TO DOUBLE REVENUE, INKS BIG FUNDING DEAL
TransPower Looks to Rev Up Its Commercialization Efforts
Wednesday, February 21, 2018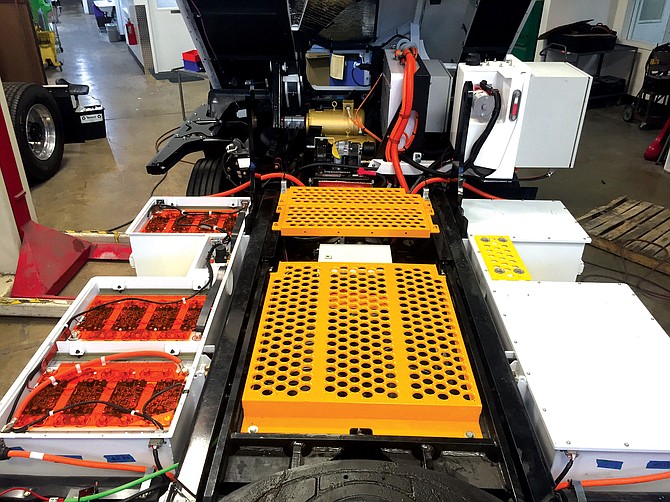 San Diego — Escondido-based TransPower, a maker of electric-drive systems for big-rig trucks and industrial-site tractors, is on a growth path.
It's quietly shifting away from prototyping and R&D, and transitioning toward production work as other companies such as Tesla trumpet their plans for electric trucks and heavy vehicles.
TransPower, which cut its teeth converting heavy vehicles to electric drive, is starting to sell kits that let truck makers do the same at their own factories. An initial customer is Kalmar Ottawa, a Kansas business that makes tractors that move shipping containers around cargo terminals. TransPower inked a five-year supply agreement with Kalmar, said Michael Simon, TransPower's CEO.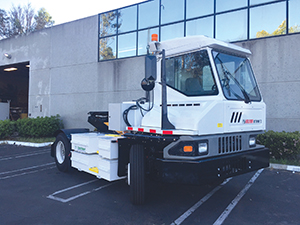 The Kit
A typical kit costs more than $100,000. It includes an electric motor, a battery system, controls and accessories that use a battery power supply.
TransPower received a strategic investment from Michigan truck parts maker Meritor Inc., closing the deal Nov. 20. Simon declined to give the sum, saying only that it is in the millions of dollars. Meritor (NYSE: MTOR), which had $3.35 billion in revenue in 2017, has options to purchase up to half of TransPower. Such a move would potentially bring its investment into the tens of millions, Simon said.
Emphasizing Production
The Meritor investment let TransPower double its workforce, Simon said. The company has grown rapidly from 32 employees in October to 60 now. TransPower moved from the Poway Business Park to larger quarters in Escondido during the fourth quarter of 2016. Recently it supplemented its 28,000-square-foot main building on Auto Park Way with a 42,000-square-foot annex.
Revenue is in the $10 million range, and the company is "modestly profitable," the CEO said. "We live within our means." Simon said he would like to double revenue in the coming year and triple it the year after that. Such aggressive goals mean TransPower will have to emphasize production over R&D.
The company produced 14 electric tractors under an R&D program, with funds coming largely from state agencies.
Dole Food Co. Inc. uses a TransPower modified vehicle at its banana import terminal at the Port of San Diego. TransPower plans to deliver a second vehicle in March.
The electric drive vehicles are seen as a way to cut down on diesel truck emissions in cities. The residents of Barrio Logan, who live near the marine terminal and freeways, say they get an unfair share of such vehicle pollution.
Also planned are heavy electric service vehicles for two San Diego ship repair yards.
Prev Next