Pacific Sotheby's International Acquires Hom Sotheby's
Sunday, February 18, 2018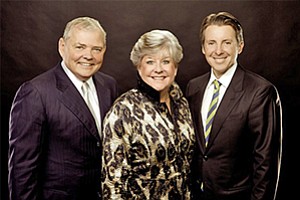 San Diego — La Jolla-based Pacific Sotheby's International Realty has expanded its reach into Orange County and Coachella Valley by acquiring Hom Sotheby's International Realty, headquartered in Newport Beach.
"That market, combined with our market, we feel creates a very powerful connection," said Brian Arrington, chairman and founding partner of Pacific Sotheby's International.
"We see the ability to grow into a much more dominant market share," he said. "We excel in the luxury market but we pride ourselves in being in all segments of the market."
By acquiring Hom Sotheby's, Pacific Sotheby's will extend its reach along what Arrington said was "the most valuable stretch of coastline in the world" and into the desert.
"The idea of uniting these companies was a long-term dream for us and provides the perfect opportunity to strengthen our market share by connecting two highly relevant markets in Southern California," said Steve Games, Pacific Sotheby's CEO.
"We have the experience and the resources to successfully operate and grow in this market and we are excited to see it all come together at this time," he said.
Pacific Sotheby's was founded in 2010 by Arrington, who was joined in 2012 by Games and Nyda Jones-Church, the company's president and managing partner.
Prior to acquiring Hom Sotheby's, the Pacific Sotheby's had 22 offices and a staff of more than 500 with sales of more than $4 billion in 2017.
Hom Sotheby's was founded in 2005. The firm has nine offices in Orange County and the Coachella Valley with about 300 agents and sales of more than $2.1 billion in 2017.
The management of Hom Sotheby's will remain in place and lead Pacific Sotheby's Orange County and desert operations, Jones-Church said.
Terms of the deal were not disclosed. The combined companies will operate as Pacific Sotheby's International.
"Integrating the Orange County and Palm Desert area markets with San Diego will provide the company with opportunity to bring additional resources to this market and continue to strengthen Sotheby's International Realty brand across Southern California," Jones-Church said.