BANKING: EMPHASIZES DEPOSIT RELATIONSHIP, AIMS TO COMPETE WITH BIG BANKS
Local Bank Sees Market Full of Opportunity and Big Targets
Sunday, February 11, 2018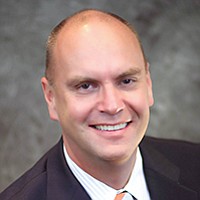 San Diego — Roughly a decade after moving its headquarters from Ramona to San Diego, the Bank of Southern California has grown to nearly half a billion dollars in assets and expanded into a third county.
The bank was launched as Ramona National Bank in 2001, but struggled. Rebranded as First Business Bank in 2006, the bank relocated from Ramona to San Diego in 2008 and adopted its current moniker in 2010.
Today, Bank of Southern California CEO Nathan Rogge says his bank has achieved the size it needs to steal back some of the market share the big banks have accumulated since the recession, also an aim of other community banks.
That wasn't always the case. Rogge said Bank of Southern California had some luck in that its rebirth started before the recession hit.
"We took the little bank and basically restarted it," he said. That included a recapitalization, a shakeup of its board of directors and a relocation of headquarters to a San Diego address. The changes focused the bank's attention on small to medium-sized businesses.
"We had two years to get in here and do things right, so when the recession hit, we were overcapitalized, we'd cleared out a lot of the construction and development type lending … It doesn't mean we didn't take our lumps, but the bank was far better positioned," Rogge said.
Recession Changes Landscape
Rogge believes industry consolidation in the wake of the recession pushed some business customers in Southern California into the arms of the nation's largest banks that have a local presence.
In 2008, there were more than 7,000 commercial banks in the U.S. But as of midyear 2017, there were about 5,000, according to the latest data from the Federal Deposit Insurance Corp.
"I worry a little that people forget that the community banks might be a viable option for their business," Rogge said. "I would argue that three-quarters of the business clients (big banks) have are not at the bank that might be a best fit for them."
Local Banks See Opportunity
Other local bankers have said they also see opportunity for growth in the region.
Last year, CalPrivate Bank (then called San Diego Private Bank) opened its first branch in Los Angeles. It rebranded this year to reflect its goal of further geographic expansion.
San Diego's Endeavor Bank, one of the first new banks to open in the U.S. since the recession, debuted in January.
Prev Next