Billionaire Patrick Soon-Shiong Confirmed Buyer of Union-Tribune, L.A. Times
Thursday, February 8, 2018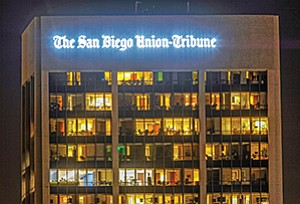 Los Angeles Times' parent company Tronc Inc. has entered into a definitive agreement to sell the Los Angeles Times, San Diego Union-Tribune and various titles in the California News Group division to Nant Capital, the private investment vehicle of L.A. biotech billionaire Patrick Soon-Shiong.
The Washington Post broke the news Feb. 6 that a sale was close. On Feb. 7, Justin Dearborn, chief executive of Chicago-based Tronc Inc., said in a memo addressed to Tronc colleagues that Soon-Shiong had agreed to acquire the properties for $500 million in cash plus the assumption of $90 million in pension liabilities.
Tronc, formerly Tribune Publishing Co., acquired the San Diego Union-Tribune, nine community weeklies and related digital properties in San Diego County, in 2015.
The buyer paid $85 million and assumed obligations for a single-employer pension plan. At closing, Tribune Publishing paid $71 million in cash and issued $12 million in Tribune Publishing common stock.
The Union-Tribune, or U-T, was founded 150 years ago. In that time the paper has won four Pulitzer Prizes and has provided daily news and information in San Diego, California's second-largest city.
Tribune Publishing formed the California News Group to oversee operations in Los Angeles and San Diego following the acquisition.
Now, soon, the U-T will be owned by the man described by Forbes magazine as "America's richest doctor."
Media watchers have compared the sale to the 2013 purchase of The Washington Post by Amazon Inc. chief executive Jeff Bezos. In this case, the sale price is double the $250 million Bezos paid for the Post.
"We are hopeful this sale protects the integrity of news, while also supporting our fellow journalists," the San Diego Press Club said in a Feb. 7 statement in response to the news of the sale.
In the wake of the news, Tronc shares rose 24 percent on Feb. 7 in early trading. The company has a market cap of nearly $750 million.
"This transaction will allow us to fully repay our outstanding debt, significantly lower our existing pension liabilities, and have a substantial cash position following the close of the transaction," Dearborn said in a statement.
Dearborn also said Tronc had acquired a majority ownership stake in Best Reviews, an online product review company based in San Francisco, California and Reno.
Tronc also said on Feb. 7 that Times Publisher and Chief Executive Ross Levinsohn, who has been on unpaid leave since Jan. 19, has been cleared of wrongdoing and will remain with Tronc as chief executive of Tribune Interactive, a business unit that Tronc plans to form following the sale.
Levinsohn's leave of absence commenced after a National Public Radio report that he was a defendant in two sexual harassment lawsuits.
Staff writer Sarah de Crescenzo contributed to this report.