RETAIL: RESMED SEES POTENTIAL IN RETAIL SLEEP-RATING DEVICE
Joint Venture Helps Co. Cover More of the Sleep Sector
Wednesday, February 7, 2018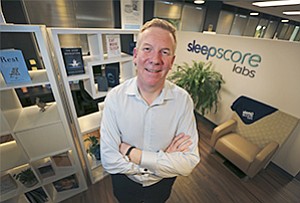 SLEEPSCORE LABS
CEO: Colin Lawlor
Revenue: Undisclosed.
The business just began getting revenue
No. of local employees: 36, aided by outsourced employees and staff at ResMed
Investors: ResMed Inc., Pegasus Capital Advisors L.P., Dr. Mehmet Oz
Headquarters: Carlsbad
Year founded: 2016
Company description: SleepScore uses technology to evaluate consumer sleep issues and connect consumers with solutions to improve their sleep
San Diego — ResMed Inc...