Hospitals Take Preventive Fiscal Measures
Sunday, February 4, 2018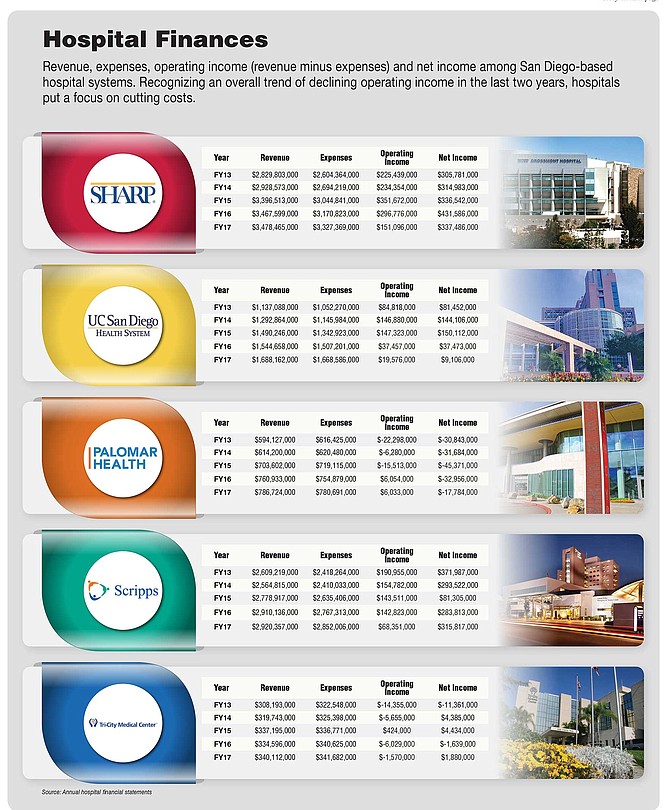 San Diego — San Diego hospital systems have reported significant drops in operating income given a whirlwind of financial pressures.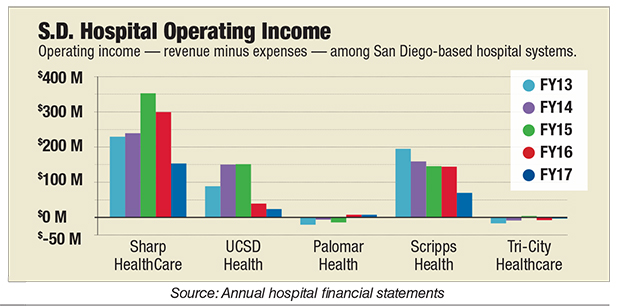 Faced with growing expenses and reimbursement struggles, hospitals have pursued cost-cutting measures, reorganized, sought scale and even announced layoffs.
Far from insolvency, the region's hospital systems are largely bringing in more than they spend, have strong reserves, and a roaring stock market mostly bolstered net incomes, according to data compiled by the San Diego Business Journal.
But experts and hospital representatives say the systems can't rely long term on stock market investment income to mask tumbling operating income — the measure of revenue minus expenses.
"We're at a point in the industry where the expense trends are outpacing the revenue trends and that's just not sustainable," said James Bush, a principal with Deloitte Consulting's health care and life sciences consulting practice.
Hospitals' already thin operating margins — on average 4.9 percent nationally from 2008 to 2014 — are forecasted to plummet absent significant organizational changes. A typical $2 billion health system with a 5 percent operating margin today that does nothing will see that figure drop to negative 4 percent by 2020, according to an analysis from Deloitte actuaries.
Reimbursement Issues
Reimbursement issues, including an increase in Medicare and Medicaid patients and less money from those programs, plague hospital systems.
"Most organizations struggle to make money on Medicare, and very few if any make money on Medicaid patients," Bush said.
In addition, health systems felt the squeeze of rising costs for facilities, supplies, medicines and staff — salaries alone generally eat up 60 percent of an operating budget.
"Nursing salaries specifically have gotten very competitive as organizations try to retain a good, experienced workforce," said Sharp HealthCare CFO Staci Dickerson.
An agreement between Sharp Health and the nurses union in late 2016 increased pay 8 percent to 12 percent in the first 12 months of the three-year deal, according to the nurses union, among a round of recent regional contracts that upped pay.
Amid increases in salary and benefits and flat patient volumes, Sharp reported operating income of $151.1 million in fiscal year 2017, down nearly 50 percent from the previous year. Yet another factor was a $28 million year-over-year drop in a Medi-Cal provider fee, due in part to volatility in Sharp receiving money owed.
Despite this, Standard & Poor's in December upgraded Sharp's rating on outstanding debt from AA- to AA, citing a still strong balance sheet and growing market share. But it did point out "softer fiscal performance" in 2017.
Prev Next