Grant Helps Center for Children on Its Education Mission
Sunday, February 4, 2018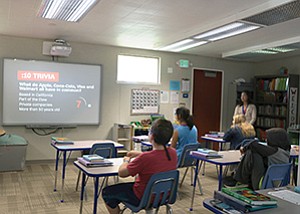 continued — Steve Kimble, chairman/CEO, Deloitte Tax LLP said: "Students participating in this competition are getting real-world experience to prepare them for a career in tax, which requires a diverse skillset and innovative thinking. Visit San diego.org.nt sandiego.org.
• • •
The Helen Woodward Animal Center announced that it received a donation from dog food manufacturer Blue Buffalo Co. Ltd of more than 33,000 pounds of dog food. Representatives from more than 20 animal rescue groups from across Southern California picked up 1,500 pounds each of the high quality pet food from the animal center.
The Helen Woodward Animal Center and Blue Buffalo have joined forces since 2013 to help other rescue organizations through far-reaching projects like the annual Home 4 the Holidays Campaign, which adopted-out more than 1 million pets over this past holiday season alone and the AniMeals program, which recently expanded to provide high quality pet food to wounded military clients with service dogs in need and other signature pet adoption awareness campaigns.

In related news, the center recently held its official groundbreaking for a brand new adoptions building. The construction of the new building marks the second phase in the Campaign for Caring — a multiyear mission to rebuild the 46-year-old Helen Woodward Animal Center's aging facilities. The plans include desperately needed improvements to its surgery suite, new exam rooms and kennels.

The project is important due to the growth and increase in the number of animals served today versus its founding. In 1972, 300 animals came through the center doors. Today, approximately 3,500 pets receive lifesaving medical care and placement each year. Additionally, the Animal Center now accepts 95 percent of its "orphan"pets from animal shelters around the country, all requiring physical and behavioral exams upon entry, as well as vaccinations and spay/neuter surgeries. Visit animalcenter.org
Send Kudos/Giving items to sglidden@sdbj.com.
Prev Next