Grant Helps Center for Children on Its Education Mission
Sunday, February 4, 2018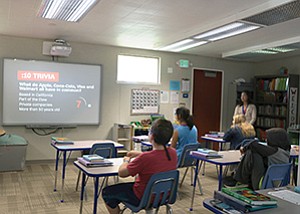 San Diego — Las Patronas, a La Jolla-based nonprofit, announced it awarded a $16,657 grant to the San Diego Center for Children Academy's expansion project.
The money will go toward interior furnishings and teaching aids and equipment, including projectors, whiteboards and desks, for the two new classrooms at the academy campus in Kearny Mesa.
The school serves students with behavioral and academic challenges beyond what public schools can provide even in special education classes.
The academy enrollment has grown by nearly 50 percent during the last few years and will serve more than 100 students during the current school year, as well as its expected to grow in the coming years.
Founded in 1887, the San Diego Center for Children is in eight locations and hundreds of homes across the county. The center provides therapeutic care, specialized education and critical life skills to more than 1,000 children and their families. The center's academy, certified in 2005, is a fully accredited nonpublic school, which is funded by and works in partnership with local school districts.
Moisés Barón, president and CEO of the San Diego Center for Children said: "The new classrooms are essential in helping us meet the current and future needs of our students." Visit laspatronas.org.
• • •
Longtime journalist and Alzheimer's advocate, Kristen Cusato, has joined the San Diego/Imperial chapter of the Alzheimer's Association as associate director of communications. Cusato was in local television news for more than 20 years and was most recently communications manager for Sanford Burnham Prebys Medical Discovery Institute.
Cusato brings a personal understanding of the struggle that patients and families of those affected by Alzheimer's experience after the loss of her mother to a related disorder.
"Taking care of her as she slowly went away was so incredibly hard," Cusato said. "My mother's disease gave me a passion and a purpose: to help others with dementia and their caregivers and to push for a world without Alzheimer's." Visit alz.org/sandiego/.
• • •
A team of students from the University of San Diego claimed victory at the Deloitte FanTAXtic case study competition by presenting the best analysis on a complex, issues-driven business tax case. The USD team won first place and received a $10,000 institutional award, and students Andrew Cole, Michael Diaz, Simon Finnie and Barbara Machado each received $2,000 in scholarship money.
The national finals were held recently at Deloitte University, Deloitte's landmark campus for learning and leadership development.
Prev Next