For Banks, Employees Tax Reform Pays
Sunday, February 4, 2018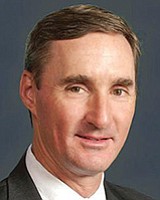 San Diego — Local banks are taking a range of tacks when it comes to the consequences of the federal tax reform legislation signed into law in late 2017.
Seacoast Commerce Bank reported net income for 2017 of $8.1 million. But write-downs associated with tax reform impacted that total to the tune of $3.8 million. So did expenses associated with its merger earlier in that year with Capital Bank, which totaled $2 million.
Without those expenses, net income was up 17.9 percent year over year. With them, it was $2.3 million, down by 66 percent compared with the $6.9 million earned in 2016.
"That's the bad part (of tax reform) that all banks have had to deal with," said CEO Rick Sanborn. "Going forward, what happens now is we are no longer paying tax at 30 percent; we're paying tax at 20 percent, so for all banks that will be a benefit."
Fewer taxes, it is hoped, will mean more income in 2018 and beyond.
More income means more capital, which will allow banks to lend more than previously, which in turn, will bring in more money.
Seacoast Commerce has decided to raise its minimum wage to $15; cover more health care costs for employees; give some back to its shareholders; and expand hiring significantly.
The bank in previous years has hired about 10 to 15 people per year. In 2018, Sanborn said Seacoast aims to make more than 30 new hires.
"Reduced taxes is what's really allowing us, from a profitability expectation and expense standpoint, to be able to do this," he said.
At San Diego Private Bank (CalPrivate Bank), the legislation resulted in a tax adjustment of $1.5 million in 2017. The bank's net income, including that one-time write-down, was about $3.4 million. Without the adjustment, net income would have been $5 million, 15 percent more than in 2016.
Wornham said the bank is considering using some of the money it expects to receive as a result of lower taxes to improve employee compensation packages.
"Our compensation committee is talking right now about how to share that equitably with team members," he said. "On a go-forward basis, this gives us the opportunity to have some more arrows in our quiver, while at the same time respecting the shareholders' need for return on equity."