California Pacific Airlines Adds Spare Aircraft to Carlsbad Operation
Monday, December 17, 2018
After facing minor mechanical issues that resulted in six days of service interruptions in early December, California Pacific Airlines is back up-and-running. According to Ryan DiVita, the company's director of sales and marketing, the airline will also add a spare aircraft, to be parked at Carlsbad's McClellan-Palomar Airport, starting at the end of the year as a precaution for the future.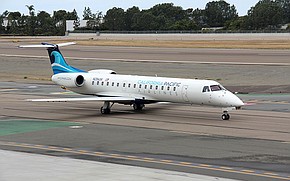 "We had a couple days where we had issues, but, we are back and running now," said DiVita. "They are machines and they do break. And, any time there is a question on status of the aircraft, we err on the side of caution and put safety first. There are no foreseeable issues that anyone of us can predict right now."
After attempting for a decade to get the privately-held commercial service airline off the ground due to numerous delays at both the federal and local government levels, California Pacific Airlines finally launched with its inaugural flight on Nov. 2 out of McClellan-Palomar Airport.
The airline plans service from Carlsbad to San Jose, Las Vegas, Reno-Lake Tahoe, Nevada and Phoenix-Mesa, Arizona, and will use a fleet of four 50-seat regional jets made by Embraer.