Schwartz Semerdjian Cauley & Moot Acquires Small & Schena LLP Firm
Monday, December 10, 2018
San Diego-based Schwartz Semerdjian Cauley & Moot has acquired Small & Schena LLP. Attorneys William F. Small and John A. Schena will be joining Schwartz Semerdjian Cauley & Moot as partners starting Jan. 2, 2019.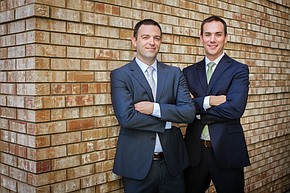 Schwartz Semerdjian specializes in business counseling and transactional services in sectors like real estate and commercial property. Small & Schena focuses on business litigation, employment law and intellectual property, among other areas.
"John (Schena) actually started his career with our firm in 2009 as a law clerk," said SSCM Managing Partner Ross Schwartz. "When he left to join Will in 2014, we continued to work with both of them and are thrilled that things have come full circle."
Most recently, Schena was awarded the Rising Star award in 2016, 2017 and 2018 by Super Lawyers and Best of the Bar in 2015 and 2017 by the San Diego Business Journal.
Before starting his own firm, Small served as senior counsel at the San Diego office of Gordon & Reese. In 2016 and 2017, he served as chair of the San Diego County Bar Association's Civil Litigation Executive Committee.