Qualcomm Notes: Possibility of going private, Apple settlement hopes, new AI fund
Sunday, December 2, 2018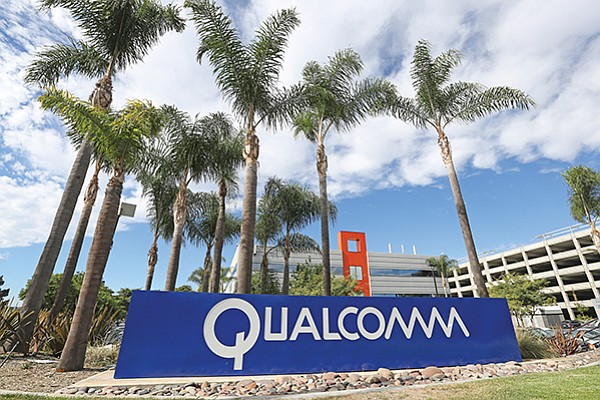 Even with the holidays fast approaching, Qualcomm Inc. has been keeping busy, preparing for 5G launches and creating a new fund. Below, read what the company has been up to this week:
Will Qualcomm go private?
Former Qualcomm Chairman Paul Jacobs is still interested in taking Qualcomm Inc. private.
"We're prepared if an opportunity arises," said Jacobs, son of the company founder Irwin Jacobs, at Bloomberg's annual Year Ahead Conference.
Paul Jacobs has been talking about taking the company private since last March, when he had reached out to potential bidders, such as Japanese conglomerate SoftBank Group Corp., in a long-shot attempt to acquire the company.
Since then, he launched his own company, a San Diego tech startup called XCOM, which he formed with former Qualcomm President Derek Aberle and former Qualcomm Chief Technology Officer Matthew Grob.
Given the chance, XCOM could be involved in a potential deal to take Qualcomm private, according to Bloomberg. Jacobs said stock buybacks had left the company with less cash, and that its shares had been dampened by ongoing legal clashes.
However, that could change soon…
Apple settlement on the horizon
Qualcomm CEO Steve Mollenkopf said the company was "on the doorstep" of a settlement with Apple Inc., in a Nov. 28 interview with CNBC's Jim Cramer. The two tech giants have been battling it out since early 2017, with billions of dollars wrapped into multiple lawsuits.
Mollenkopf forecasted that resolution would come at the end of the year, going into next year. Major legal events with the ability to affect both companies are slated for early 2019, and equally important, the rollout of 5G networks and products.

The transition between technologies, Mollenkopf said, is "the opportunity to either be left behind or to make sure that you're part of that new generation. Of course, we work with everybody. We would love to work with Apple."
Qualcomm's stock rose on the news, opening at $58.22 on Nov. 30.
New AI Fund
Qualcomm's investment arm also had big news to share to close out November. Qualcomm Ventures launched a $100 million fund focused on artificial intelligence startups.
Though Qualcomm has invested in several AI companies in the past, including local tech startup Brain Corp. and self-driving car company Cruise Automation, it announced a new investment in New York-based object- and face-recognition startup AnyVision to launch the new fund.