Foundation Finds Good Way to Give Back to Community
Sunday, August 26, 2018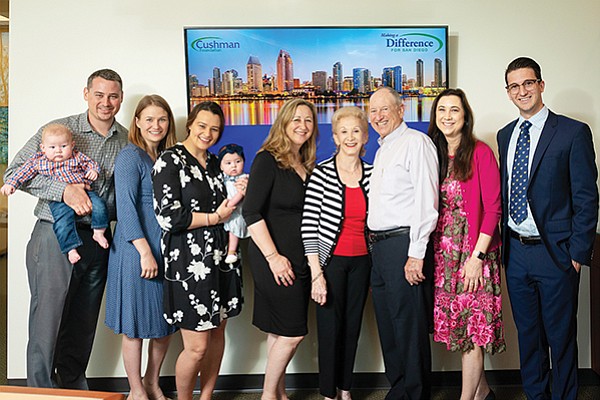 San Diego — The Cushman Foundation announced that it launched an initiative this year, "Making a Difference for San Diego," to impact worthy organizations throughout San Diego County. The intention is to provide funding for much needed services to diverse communities and to elevate or create new programs that truly make a difference in the community. These gifts are a part of the annual giving platform of giving back to San Diego that began more than 30 years ago.
From the 201 organizations that submitted applications through the Making a Difference for San Diego initiative, the Cushman Foundation announced that it awarded $1.2 million among 15 deserving organizations: Bilateral Safety Corridor Coalition, Burn Institute, Center for Community Solutions, Crisis House, Hannah's House, Jacobs & Cushman San Diego Food Bank, Leap to Success, Outdoor Outreach, Partners in College Success, Seacrest Foundation, Urban Street Angels, Wounded Warrior Homes, ElderHelp of San Diego, Interfaith Shelter Network, and UCSD Student-Run Free Clinic Project.
The Initiative is a commitment by the Cushman Foundation to give back to the city that has supported its family for seven generations. It is the philosophy of the Cushman Foundation to have a sense of social responsibility and to honor the communities in which it has conducted business.
Steve Cushman, patriarch of the family, is on the San Diego Business Journal's San Diego 500, The Book of Influential Business Leaders. He served as a commissioner for the San Diego Unified Port District from 1998 to 2010, has served on more than 70 boards. Visit cushenterprises.com.
• • •
A year ago, Hurricane Harvey hit the Houston area, devastating lives including those of "orphan" pets. The tragic day resulted in a lasting partnership between Helen Woodward Animal Center and several Texas shelters. Today, the center celebrates more than 100 orphan pets transferred from the Lone Star State to Rancho Santa Fe. One such orphan pet named Cooper was diagnosed with heartworm, but was hiding another more tragic part of his past. When medical staff at the center did X-rays to check on the severity of Cooper's heartworm, they discovered more than seven buck shots in his chest, sides and back. It's unclear whether Cooper was shot on various occasions or whether it happened at one time. It is clear that Cooper's past was one of cruelty and abuse. Center Operations Director Jennifer Shorey opended her home to foster Cooper on his "long journey and treatment ahead," she said.
Prev Next