Executive Q&A: Matt Kite, Cerna Solutions CEO
Monday, August 20, 2018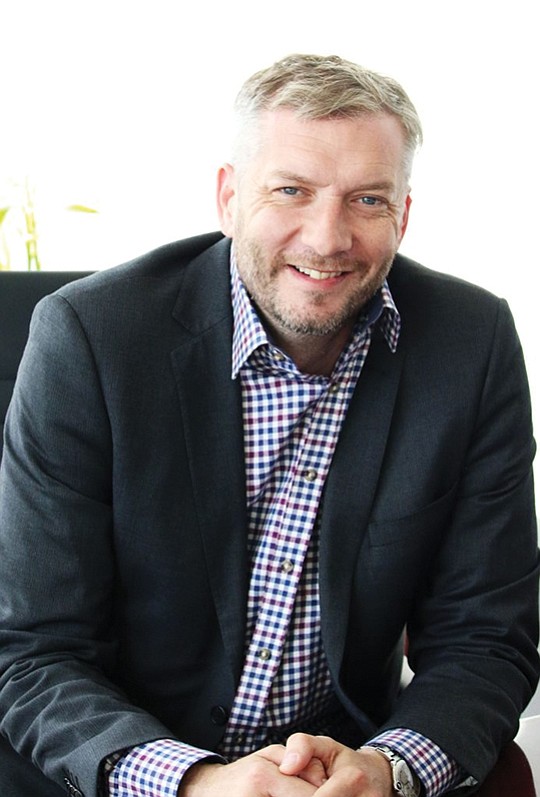 CERNA SOLUTIONS
CEO: Matthew Kite
Revenue: More than $5M in 2016
No. of local employees: 8
Headquarters: Carlsbad
Year founded: 2012
Company description: ServiceNow partner that implements the company's software, offers automated testing product via subscription.
San Diego — Matt Kite moved to the U.S. from the U.K. in 2004. Today he employs more than 30 people at Cerna Solutions, which he established in 2012 to provide implementation services for companies looking to use the cloud-based IT services offered by tech giant ServiceNow. He launched the company with $2,000, and has grown it organically since then to a multimillion dollar enterprise that employs 34 people nationwide. Cerna's revenue topped $5 million in 2016; Kite said year-over-year growth has been 200 percent on average since 2014, the company's first full year of business. He sat down with the San Diego Business Journal recently for a conversation, punctuated by the occasional aircraft noise — the company headquarters is at McClellan-Palomar Airport in Carlsbad — to talk about why he started the company and how it differentiates itself among hundreds of competing ServiceNow partners.
Q: What led you to want to start your own company in this space?
A: I've been in IT service management, a software large companies use to organize their IT infrastructure, for 15 to 20 years, mostly as an employee. I was in a consulting capacity, then I moved into a sales capacity, so I saw both sides of the business. I resigned from the company I was working for in 2012 because I didn't really like the way they were going about the business — but I also saw an opportunity for me to do things the way I wanted to. It was a moment of reflection: I've always been trying to do something, but never had the guts to go build a business on my own. … It was a good opportunity for us to say, let's give this a try. I founded the company in 2012 and started working on it full time a year later. That was a really scary moment, because I left behind a regular paycheck for hoping I'd get a paycheck.
Q:What did Cerna Solutions offer when you started out?
A: The previous company I worked with resold and implemented software called BMC (Software). The company we're partnered with, ServiceNow, fundamentally does a lot of the same things, but it's more evolved because it's newer — the Facebook to BMC's MySpace. Fortunately I knew some people who worked for ServiceNow at the time, and they helped me navigate the partner model, which means that we either resell the licenses or subscription to ServiceNow or we are involved in the sales cycle. When a customer decides to purchase the product, we effectively then would implement that solution. Fundamentally I would say we're a consulting organization, or that's how we started.
Q: How did you get a foothold in the space without any clients to vouch for your work?
A: I was starting out on my own and didn't have any reputation, so I needed to hire people who did, so we hired people who had a number of years of experience on the ServiceNow platform. We did a lot of subcontracting to begin with, just basically to bring revenue in, and provide them with people to do implementations. Then, after a couple years, we started to build our sales team, and as that team became more established we began talking with customers directly. Today, 98 percent of our business is direct with an end customer — we don't do subcontracting anymore because we don't need to, which is great.
Q: Cerna Solutions is one of hundreds of ServiceNow partners. What about the service you provide appeals to customers in a way that differentiates the firm from competitors?
A: If you're successful, the customer will want to engage you again. Our 100 percent focus is being successful on every implementation. We cannot consider ourselves a success if the customer doesn't consider the project a success. A successful deployment is very much about the approach that you take. A lot of people in this industry will spend an hour on the phone with a customer, get an idea of what they need, then start working.
I do not subscribe to that. You have to gather your requirements for an implementation at some point. You can either do it before you start implementation, or you can start building during implementation, realize you did something wrong then build it again. That's not a good experience for anyone.
We invest a lot of time upfront with the customer to fully understand what they're trying to do so that if they want us to do an implementation, we pretty much know what the scope of that project is. No one should be taking a risk on working with us.
We actually have leads coming in as recommendations from our customers. That's huge.
Q: You have also begun offering a subscription product of your own. What was the impetus behind that?
A: We started using the revenue generated by the direct business, starting three years ago, to build our own product that automates the testing of ServiceNow and other platforms. When you're talking about large scale applications, if you make a modification or apply a patch or do an upgrade, you then have to test if it still works. What you don't want to do is promote a bad code to production from development, or testing. What you'd generally do is say: Can everyone log into the system and see if it still works? That's really time consuming for a customer, not just in the length of time it takes to test manually, but also in that the developers aren't getting feedback from the testing to say yes it works or no it doesn't. With the product we've developed, CapIO, our computer does that testing for you. It provides this huge efficiency to large organizations that are looking to reduce manual effort in their development life cycle to increase the volume of the throughput they can do in development. So now as an organization we have a consulting arm of the business and a subscription arm.
Q: After triple-digit revenue growth in the company's first few years, how do you plan to maintain momentum?
A: It's all about growing this business in a sustainable fashion. As an organization we've never had any investment and we've never had any debt. We've been profitable every year since inception. From a business point of view, I'm looking for revenue that is repeatable. We have some operational contracts with customers that have said, 'I don't want to manage this ServiceNow platform internally anymore, so we're going to give that responsibility to Cerna, and they become our ServiceNow development and administration team.' So that's a recurring revenue annual contract. Repeat business through successful implementation, to me, is also a form of recurring revenue, because you're going to get future phases of the project. And then with our CapIO product, that is a subscription model, so that's guaranteed revenue if people renew, which they do, so far.