McAlister Draws Crowd to Support Those Fighting Addiction
Sunday, August 19, 2018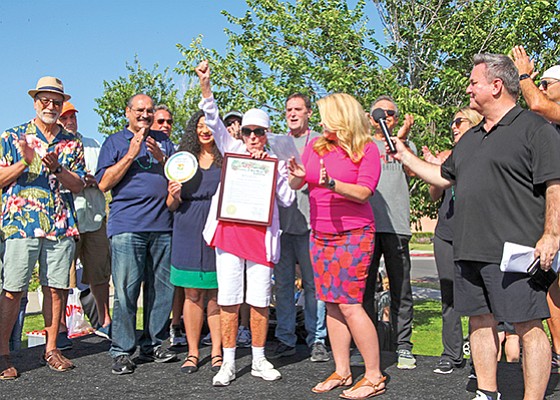 San Diego — McAlister Institute's 6th Annual 5K Walk for Sobriety raised more than $93,000 to bring help and hope to thousands of individuals and families impacted by addiction. All proceeds from the Walk for Sobriety benefit McAlister Institute's 26 programs which provide lifesaving services in substance abuse treatment, mental health counseling, life skills education and vocational training to more than 11,000 individuals each year, most of whom could not otherwise afford help.
An estimated 600 walk/run participants, 36 community-based organizations and 389 donors contributed to the event's success. Tommy Sablan, a McAlister alumnus and senior producer for KGB's "Bob and Coe Show," served as emcee for the sixth year. County partners such as Behavioral Health Director Alfredo Aguirre, Chief Probation Officer Adolfo Gonzales, and HHSA East and North Central Director Kimberly Gallo also attended the event, where Gallo presented McAlister with a proclamation welcoming the organization as an official Live Well San Diego partner.
"Our goal is to save lives and beat addiction by illuminating the path to recovery and ensuring affordable, quality treatment for every individual and family who needs us," said McAlister, founder and CEO of McAlister Institute.
McAlister said since 1977, the institute has helped hundreds of thousands of individuals suffering from addiction and "not one of them — not one — has chosen to become an addict, any more than a person chooses to contract cancer or heart disease. In the same way, treatment solutions shouldn't discriminate who gets help. That's why we keep our doors open to everyone." Visit mcalisterinc.org.
• • •
The Old Globe and University of San Diego's Shiley Graduate Theatre Program today announced Jesse J. Perez as its new director. Perez is an accomplished actor, choreographer, director, and professor who came to San Diego after 12 years of distinguished teaching at The Juilliard School in New York.
Perez will join the faculty of the University of San Diego's Department of Theatre and oversee the internationally renowned master of fine arts in acting program, which is a joint effort between the university and The Old Globe.
The master of fine arts in acting program nationally recruits seven students each year to participate in an intensive two-year, year-round course of graduate study in classical theatre. Visit theoldglobe.org.
• • •
Mixte Communications, a local small business, won a prestigious gold designation for its internal and external bike culture and advocacy. The Mixte team is one of three businesses in San Diego honored with gold level by the bike-friendly movement leaders at League of American Bicyclists. The other two are Coffee Hub & Café that was awarded a gold in 2017 and KTUA (architectural firm) in 2010. San Diego Gas & Electric was awarded a bronze in 2018.
Known for its social justice and small business communications expertise, the San Diego PR agency is working to transform protective rights and infrastructure for San Diego cyclists the best way possible: leading by example.
Mixte is the PR machine behind the San Diego County Bicycle Coalition, which advocates for all people who ride in San Diego County.
• • •
Promises2Kids announced that a recent fashion show and luncheon, held at Rancho Valencia Resort in Rancho Santa Fe, raised more than $12,000.
Promises2Kids is a leading nonprofit organization founded more than 35 years ago as the Child Abuse Prevention Foundation of San Diego County. Since 1981, Promises2Kids has responded to the needs of foster children and provided support to children removed from their home due to abuse and neglect.
The nonprofit annually provides over 3,000 current and former foster youth in San Diego County with the guidance they need to address the circumstances that brought them into foster care, overcome the difficulties of their past, and grow into healthy, happy and successful adults. Promises2Kids supports these children through its four core programs: Polinsky Children's Center, Camp Connect, Guardian Scholars and Foster Funds.
The event was organized by Stefanie Lyon, owner of Nicole Miller, a retail store for women's apparel and accessories for women. Lyon frequently volunteers for Promises2Kids with her daughter. Visit promises2kids.org.
Send Kudos/Giving items to
sglidden@sdbj.com.