DEFENSE: 3 COS. COMING TOGETHER WILL HANDLE VARIETY OF ROLES
Merlin Teams Up to Expand Its UAV Services
Monday, August 13, 2018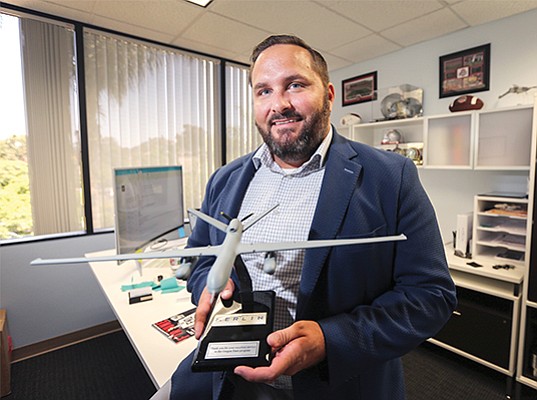 MERLIN GLOBAL SERVICES
CEO: Brian Raduenz
Revenue: $41.9 million in 2017; $28.3 million in 2016
No. of local employees: 43
Investors: Trive Capital of Dallas holds a controlling interest; the other partners are undisclosed
Headquarters: Solana Beach
Year founded: 2006
Company description: Defense contractor offering services related to manned and unmanned aircraft
San Diego — "Bob, 51 & Brian, 49, will start a company to support Big Safari and make things happen, with planning starting in 2007 and operations in 2008."
The story of Merlin Global Services begins with those words scrawled on a cocktail napkin with four signatures at the bottom.
Ten years later, in 2017, revenue at the Solana Beach firm grew 48 percent to $41.9 million.
Merlin deals in ISR. The three letters stand for "intelligence," "surveillance" and "reconnaissance." The U.S. military is buying ISR capability, and that is a central part of the growth story at Merlin.
A Service Provider
Merlin works with manned aircraft and the still-young technology of unmanned aircraft. The company doesn't make flying machines; it doesn't fabricate a thing. Rather, it is a service provider for the U.S. government and for large companies such as Sierra Nevada Corp., the Nevada-based defense contractor, and Lockheed Martin Corp. (NYSE: LMT). Its services include aircraft operations, maintenance, training and technical support.
"Anything that flies and carries a sensor, we touch," said Jeremy Watrous, the company's vice president of operations, adding he expects Merlin's revenue to grow an additional 25 percent to "north of $50 million" this year.
Even bigger things are ahead.
Combining With 2 Other Companies
Merlin inked an agreement to combine with two other companies — CSG Solutions of Fayetteville, North Carolina, and Special Operations Solutions (SOS) of Tysons Corner, Virginia — to offer a broader range of services using unmanned and manned aircraft. Financial terms of the deal, which closed Aug. 6, were not disclosed. The three will be grouped under the umbrella of Aevex Aerospace, which will be based in Solana Beach. Merlin's CEO, Brian Raduenz, will be CEO of Aevex.
Part of the plan is to operate a diverse fleet of small, manned aircraft. The goal is to be an end-to-end ISR services provider, Watrous said.
Air Force's Big Safari
Going back to the napkin, Big Safari is the U.S. Air Force office that deals with advanced technology and quick procurement.
In 2000, it hurried General Atomics Aeronautical Systems Inc.'s Predator aircraft into the field, and turned what had been an ISR aircraft into a remotely piloted missile launcher. It also created the system that let pilots on the ground in the United States fly the aircraft in places like Afghanistan and Iraq.
Prev Next