MEDICINE: NATIONAL PICTURE EXPECTING 4% TO 5% GROWTH
Local Device Cos. See Solid Quarterly Results
Monday, August 13, 2018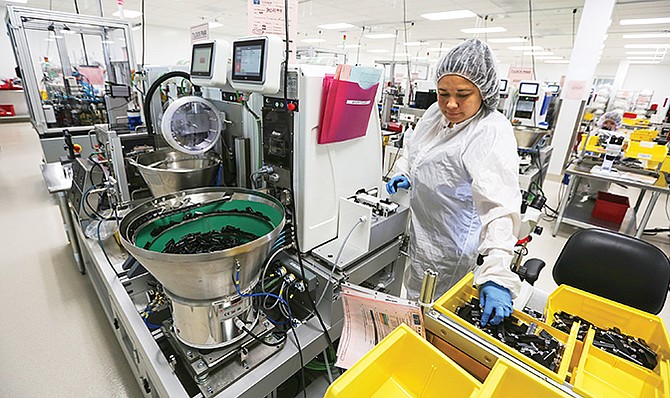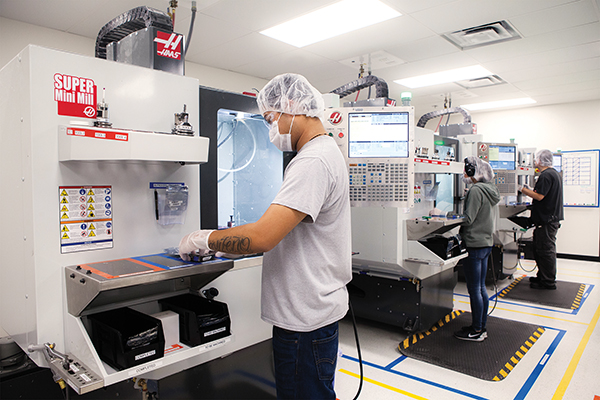 Revenue Growth, Per Recent Quarterly Results
Dexcom: $242.5 million, 42 percent year-over-year increase
Tandem Diabetes Care: $34.1 million, 60 percent year-over-year increase
ResMed: $623.6 million, 12 percent year-over-year increase
NuVasive: $281.6 million,
8.5 percent year-over-year increase
San Diego — Four major medical device companies based in San Diego recently delivered strong quarterly results, lifting their stocks and growth outlooks.
Dexcom led the local medtech industry following wider adoption of its diabetes monitoring technology.
In Aug. 1 second quarter results, Dexcom reported $242.5 million in revenue, a 42 percent year-over-year increase, and 18.4 percent higher than the Zacks Consensus Estimate, a roundup of analyst projections.
"There are only so many adjectives we can write to describe the progress this company has made in a year, so we will simply say 'bravo' on delivering a very good 2Q18," said analyst Joanne Wuensch with BMO Capital Markets in an Aug. 1 research note, reiterating BMO's outperform rating on the stock.
Most second quarter sales were derived from the company's smartphone-linked G5 system, which enables diabetes patients and caregivers to quickly act in case of dangerous blood sugar levels. But Dexcom indicated the future is even brighter, since the end of the quarter saw the release of its G6 technology, which doesn't require finger prick blood draws for calibration.
Dexcom now expects revenue of approximately $925 million in 2018, versus a prior company estimate of $850 million to $860 million.
Looking beyond 2018, Wuensch said the company's revenue growth could accelerate. She cited G6, continuous glucose monitoring penetrating the Medicare market and Dexcom widening its reach beyond Type 1 diabetes.
In January, Dexcom partnered with insurer UnitedHealthcare on a pilot program to gauge whether its continuous glucose monitoring devices can help Type 2 patients better manage the disease. UnitedHealthcare sees potential to save on health care costs.
Under non-GAAP (Generally Accepted Accounting Principles), Dexcom reported a quarterly loss of $0.10 per share, better than the Zacks Consensus Estimate of a $0.20 a share loss. GAAP net income was $30.2 million, or $0.34 per share, according to Dexcom.
Tandem Diabetes Care
Another regional diabetes company — and Dexcom collaborator — posted a big quarter: Tandem Diabetes Care. The company makes touchscreen insulin pumps, capable of being updated by a remote software update.
In second quarter results July 31, the company listed sales of $34.1 million, a 60 percent year-over-year increase, and record company growth.
Operating margin improved to negative 41 percent, versus negative 89 percent during the prior second quarter.
Tandem's stock hit $27.56 following the quarterly results, underlining a company rebound. The stock stood at $2.54 at year's beginning.
One Tandem storyline to watch for in future quarters: The company in June won U.S. Food and Drug Administration approval for an automated insulin technology that lowers the frequency and duration of low blood sugar. It integrates with Dexcom's G6.
ResMed
ResMed — which makes masks, devices and accessories to treat sleep apnea and other respiratory conditions — beat analyst expectations in fourth quarter earnings, posted Aug. 2.

The company reported diluted quarterly earnings of $0.95 per share, under non-GAAP standards, surpassing the Zacks Consensus Estimate of $0.90 a share. ResMed listed fourth quarter revenue as $623.6 million, a 12 percent year-over-year increase.
Income from operations in the fourth quarter, according to the company, totaled $146.9 million, 15 percent higher than the prior year period.
ResMed said the company experienced growth across markets and its portfolio.
Along with winning strategies, San Diego medtech companies appear to be benefitting from favorable industry forecasts.
Device Industry Outlook
In March, Moody's Investors Service revised upward its medical device industry outlook. The organization predicted 4 percent to 5 percent national industry growth in EBITDA (earnings before interest, taxes, depreciation, and amortization) over 12 to 18 months.
Moody's cited innovative products finding new markets, as well as a suspension earlier this year of the 2.3 percent excise tax on medical devices.
Rounding out the positive quarters, spinal surgery and products company NuVasive reported $281.6 million in second quarter earnings, an 8.5 percent year-over-year jump.
The figure exceeded forecasts; analysts expected $276.1 million.
NuVasive stated that net income was $11.5 million, or 22 cents per share, compared with 21 cents per share in the second quarter in 2017. Adjusted to exclude one-time items, earnings per share were 58 cents, in line with Wall Street expectations.