Renters' Prayers Answered As $40M Complex Planned
Thursday, August 9, 2018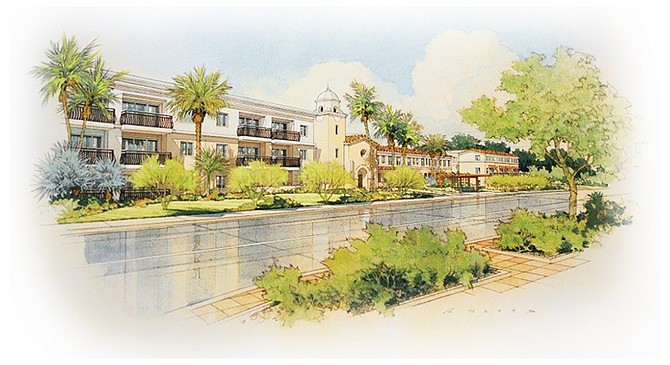 San Diego — A vacant historic former retirement home and Catholic convent in La Mesa will be resurrected as a 130-unit apartment complex in a $40 million joint venture by Pathfinder Partners and Silvergate Development.
Built in multiple sections over 50 years starting in 1938, Little Flower Haven closed in 2015.
"It was laying fallow for the last several years," said Mitch Siegler, senior managing director of Pathfinder Partners.
The oldest portion of the complex includes a bell tower and two-story residential block and has been determined to be eligible for listing on the California Register of Historical Resources, according to an environment impact report prepared on the project.
A three story addition to the west was completed in the 1950s and a three-story section to the east was built in 1958.
The most historic part of the mission-style structure will be preserved, including a bell tower and chapel.
"We're keeping what we can keep and trying to preserve the architectural style as much as we can," Siegler said. "There's a lot of history here and we want to honor that."
The remodeled original structure and the east and west wings to be constructed on either side will include 50 apartments, 39 of which will be served by an elevator.
Amenities will include a recreation room with a kitchen and a fitness center overlooking exterior decks and a pool.
In addition to the historic portion of the structure facing La Mesa Boulevard, six new three-story apartments will be built.
The new complex will have 68 one-bedroom, one-bathroom apartments, 55 two-bedroom, two-bathroom apartments, and seven studio apartments. The apartments average 777 square feet in size.
Each apartment will have solid surface counter tops, stainless steel appliances, new flooring, in-unit washer/dryers, and central heat and air conditioning. Most will have a private patio or balcony.
Community amenities will include a fitness center, swimming pool and spa, barbecue grills, electric vehicle charging stations, bicycle lockers, storage areas, covered parking and a ball park.
Construction is set to start Oct. 1 and take about 20 months to complete.
Siegler said the project isn't being marketed to any particular demographic group.
"It's a broad array of folks that love living in La Mesa apartments, the millennial generation, baby boomers who are down-sizing, white collar, working class, blue collar — a wide variety of generations." Siegler said.
Rents have yet to be set.
"We envision that our project will be substantially more affordable than apartments in Mission Valley, substantially less expensive than the $3,000 to $4,000-a-month apartments in Little Italy."
Rachel Parsons, a multifamily sales specialist with the commercial real estate brokerage firm CBRE, said monthly rents in newly built La Mesa apartment projects typically are around $2.25 to $2.50 per square feet of space compared to about $2.74 to $3.00 per square foot in Mission Valley.
In a report on the La Mesa submarket, CBRE said the average monthly rents among the newest La Mesa apartment projects topped $2,000 and the average monthly rents among all La Mesa apartments was $1,647.
As envisioned by Pathfinder Partners and Silvergate Development, the renovated Little Flower Haven is "a great little project," Parsons said.
"The Little Haven project is going to be really special because they're trying to preserve a lot of the architecture there,"
Parsons said La Mesa "is becoming a very popular submarket," although Little Flower Haven is one of the few projects planned for the area.
Most of the apartments in La Mesa were built in the 1970s and 1980s, Parsons said, adding that, "There's significant demand, it's just that there hasn't been anything built."
According to the CBRE report, the average occupancy rate in La Mesa apartment projects is 96.5 percent and has been over 93 percent for the past 10 years.
Pathfinder Partners acquired Little Flower Haven in July for $6 million, according to CoStar, a commercial real estate listing service.
The transaction was brokered by Austin Dias of Duhs Commercial, Inc. and Eric Knowles of Kidder Mathews.
"We believe it's a very well located piece of land in a neighborhood that is very solid and stable and improving," Siegler said.