Illumina Continues To Exceed Expectations
Thursday, August 9, 2018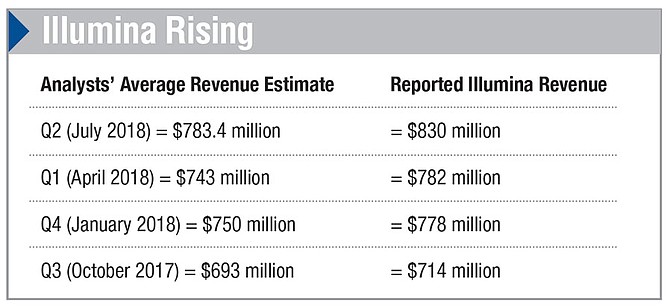 San Diego — In quarter two earnings, Illumina continued a streak of stomping analyst expectations.
The San Diego company July 30 reported second quarter revenue of $830 million, a 25 percent year-over-year increase, and about $46.6 million higher than analysts' average estimate.
Earnings per share came to $1.43, which is $0.32 better than analysts had anticipated.
The company also bested expectations — in terms of revenue and earnings per share — in the three prior quarters reviewed by the San Diego Business Journal. In first quarter earnings, revenue was listed as $782 million, versus analysts' estimate of $743 million.
During this period Illumina reported adjusted earnings of $214 million or $1.45 per share, also beating what analysts expected. They forecasted $1.02 per share.
The latest earnings report reinforces the idea that Illumina is strengthening its position as a market leader with more turning to genomics for research, clinical and consumer purposes. Sequencing consumables, array consumables, and lab and other services each grew more than 30 percent compared with the second quarter of 2017.
Thanks to the strong results, Illumina lifted its full-year forecasts. The company expects revenue to increase 20 percent year-over-year in 2018.