You'll Love the Sights From the Saddle or the Viewing Deck
Sunday, August 5, 2018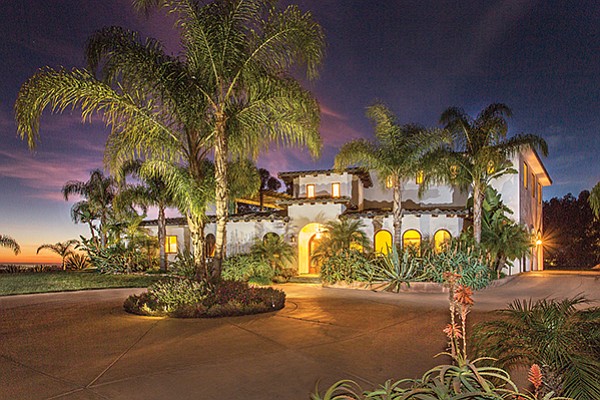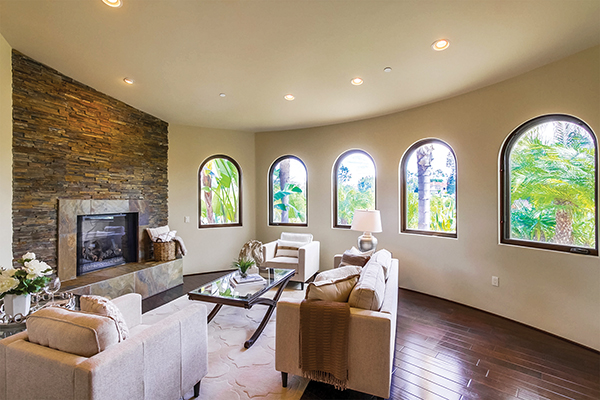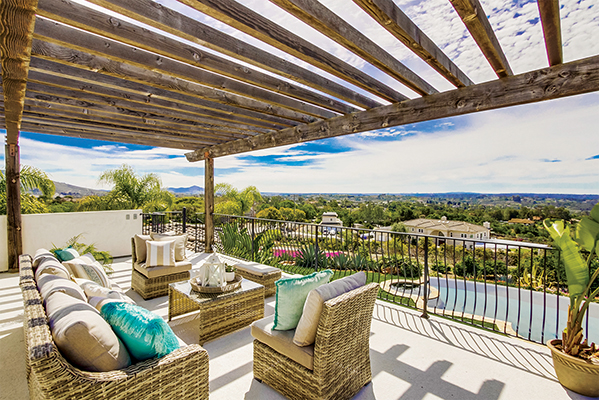 At the easternmost edge of Encinitas, Lone Jack Road, the main road through the community of Olivenhain, hits a dead end. On the right, a tree-lined drive leads to an impressive iron gate with keypad access. Once the gate swings open, the road continues up the hill past large estate homes that were part of a development completed in 2001, to more custom estates on larger parcels at higher elevations.
It's a quiet, exclusive neighborhood accessible only to the fortunate few who live behind the gates.
At the crest of the hill is a stunning, south-facing, Spanish Mediterranean home at 3544 Lone Hill Lane. It's a custom home that was built in 2009 in between the communities of Dove Hollow, Double LL Ranch and Knightsbridge. It sits on 2.5-acres with sweeping backcountry and ocean views.
The asking price is $3.395 million.
Christy Hines, the broker at Distinctive Homes California, has the listing on the 7,044-square-foot home with seven bedrooms and five and a half baths. Hines founded Distinctive Homes California in 2008 as a boutique-style brokerage that now has six agents and a sales manager who specialize in the area.
"The home is just three miles from the ocean as the crow files," Hines said. "What makes it really special is that it has these huge views and it's also zoned for horses."
Hines said it sits along the horse path that is maintained by the parks and recreation department in Encinitas and Rancho Santa Fe.

"You can walk on the trail, bike on it, hike it, take your pets — just no motorized vehicles," Hines, who lives in Olivenhain, said. "I've ridden that horse trail all the way to the Rancho Santa Fe golf course from my home."
The other compelling feature for many people is that there isn't a formal architectural committee Hines said, and the homeowner fees are only $600 a year.
"No one can tell you what color to paint your house; it's very freeing for a lot of people," she said.
The lack of restrictions seems to support the original intent of the founders of Olivenhain, which was incorporated into the City of Encinitas in 1986. But prior to that, it was settled in the late 1800s by seven "colony" members who were committed to maintaining a close-knit community with controlled growth and community meetings where all members could participate in important decisions regarding the community's expansion. This founding principle lives on today. Current Olivenhain residents meet to discuss community issues in the same building where the original founders had their meetings nearly 135 years ago. Some of the descendants of the original homesteaders still live in Olivenhain today, according to historical documents at the Olivenhain Town Meeting Hall. The Hall was added to the National Register of Historic Places in 1993.
The Lone Hill Lane home is a single level home with a 1,000 square-foot guestroom (approximately) on an upper story that has a microwave and sink.
Its south-facing location creates a natural light-filled space throughout the home.
"I actually show the house with no lights on and after I walk people through, I say 'I don't know if you noticed this or not but there wasn't a single light turned on in the house.'" Hines said. "There are a ton of wood-cased, arched windows with views of the ocean or the amazing city light view at night."
Hines said the dining room has a big wall of LaCantina Doors that disappear, so you can walk right outside to a covered patio with a fireplace, TV and ceiling fans.
"Outside of that (the downstairs patio) is a spiral staircase that takes you upstairs to a viewing deck with a sofa and chairs that are covered by a pergola with views from the Encinitas bluff, to downtown La Jolla all the way down south — some say you can actually see Tijuana, but I'm not so sure of that."
The upstairs viewing deck is perfect for clear, starry nights. Another advantage of Olivenhain is that it has a "dark skies policy," which reduces light pollution by placing restrictions on outdoor lighting used on tennis courts, streets and other structures in the community.
Most of the 2.5-acre lot's landscaping is indigenous, low-maintenance vegetation. In late spring through early summer, an explosion of shimmering, fuchsia-pink ice plant blankets the gently sloping hillside. There is a rose garden on the west side, as well as more than 80 fruit trees, eight avocado trees and "every single kind of pear, apple, peach, nectarine — they're all on drip so it's very useful in terms of water retention," Hines said.
The home lives like a single-level home with a large open concept kitchen. There are wood floors in the master and all the other bedrooms. A separate seating area in the master is used by the owner to paint landscapes inspired by the expansive views out over the yard and the pool.
"It's a little slice of heaven in Olivenhain," Hines said. "I really believe that."
Send luxury real estate items to sglidden@sdbj.com