Lobbies No Longer Just Welcome, Now They Aim to Wow Visitors
Wednesday, August 1, 2018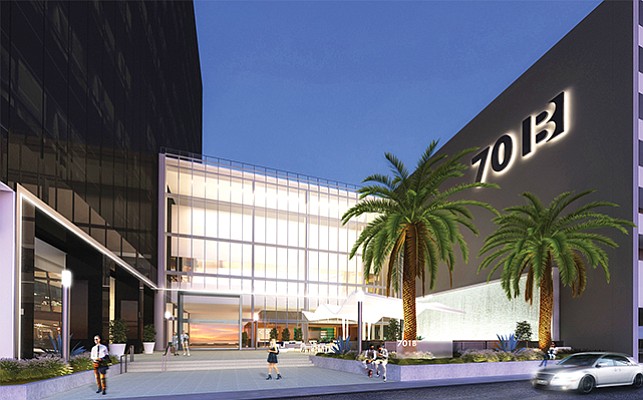 San Diego — Downtown building lobbies are getting extra attention from owners as part of an overall drive to spruce up older buildings to compete with newer offerings.
No longer is the lobby a place people walk through on their way to an elevator, but almost an entertainment center in its own right, meant as an attraction to help tenants lure the coveted workforce of young professionals.
Among the latest to get a make-over was Emmes Realty Services' 701 B St. in the heart of what the company said is San Diego's financial center.
Emmes said the work on the lobby of the 24-story building was a "multimillion" project, but declined to give firm numbers.
Emmes acquired 701 B St. in 2014 in a $154.9 million package deal that included the 18-story building at 707 Broadway.
The architect/design firm on the 701 B St. project, LPA Integrated Design Team, described the renovated lobby as an iconic space meant to create a "wow" moment and evoke an emotional response from people who enter.
Gone is the dark reflective angled glass wall which blocked views into the lobby.
Replacing it is a 65-foot tall clear glass wall with a "water feature" that's 50 feet long and nearly 20 feet high.
A textile light wall in the lobby changes colors throughout the day.
"The lobby is one of the major touch points for visitors and tenants. It's an experience you have every day and multiple times a day," said Mark Kuske, Emmes vice president of asset management.
"We want that customer experience to be the best it can be with dynamic architectural features like the water wall and luminous textile light wall," Kuske said. "These features change throughout the day. For example the water wall is like a water show and changes from a slow trickle to a wave and speeds up and down, and the light wall changes colors and themes throughout the day. This provides visitors and tenants with a new experience every time they walk through the lobby."
The 701 B St. lobby is part of what Emmes said is an "Urban Oasis" visitors and tenants will come upon at the building entrance, with an upgraded plaza.
When Emmes bought 701 B St., the building lacked "first class amenities and prestige befitting of a Class A office building," Kuske said. "Parallel with what we do with our other buildings, the renovation brought 701B up to modern standards and gave the building purpose, utility and value."
Emmes in 2014 remodeled the lobby of its building at 1 Columbia Place as part of a $10 million renovation project.
In addition to renovating the lobby of 701 B St., Emmes has installed 16 Tesla superchargers in its 6th & A parking garage at 1350 Sixth Ave.
The installation features Tesla 72 kilowatt charging stations for electric vehicles — the first in downtown San Diego.