Grant Will Give Grieving Children A Safe Place to Heal
Sunday, April 29, 2018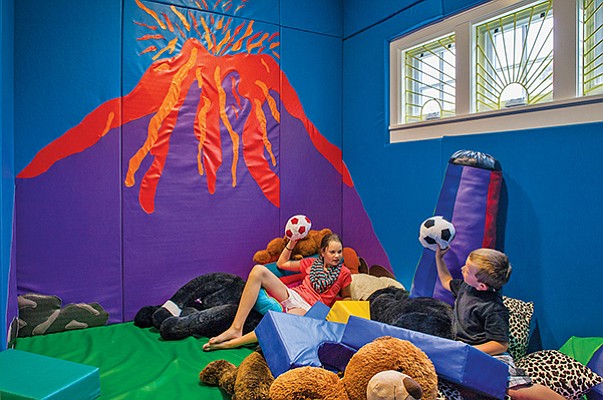 San Diego — The Elizabeth Hospice announced a $10,660 grant from Las Patronas to fund the construction of an innovative activity room where children experiencing loss can express powerful emotions as they process their grief.
Funds from Las Patronas will be used to build a "Volcano Room" at the Children's Bereavement Center at the hospice. This "big energy" room will have padded walls and floors and be equipped with pillows, soft blocks, large stuffed animals and pillow jousts to help children process grief in a safe place.
The Elizabeth Hospice is the community's leading provider of children's bereavement services. In January 2018, it expanded its offering to include a Children's Bereavement Center in Escondido. The center is a safe, nonjudgmental place where children and teens participate in peer-support groups. They honor and memorialize their loved one, learn they are not alone, build a toolbox of coping skills and have fun while working through their grief.
Jan Jones, president/CEO of The Elizabeth Hospice said: "One in five children will experience the death of someone close to them before they reach the age of 18. Without support, grieving children are at higher than normal risk for problems in school, substance abuse, depression and anxiety." Visit: elizabethhospice.org/.
• • •
Mission Edge announced the launch of its 2018 Social Enterprise Accelerator and Impact Lab (SAIL), designed to empower nonprofit organizations and purpose-driven businesses to develop and grow sustainable, revenue-based business models that align with their social missions. In partnership with Qualcomm Foundation, The San Diego Foundation, San Diego Workforce Partnership, Mitchell International and Cox Communications Inc., the 14-week program provides a rich curriculum with content, tools, workshops, and lectures that help participants build and test their business models. SAIL is running from March through June 2018 and culminates with a final pitch event.
Kathlyn Mead, president/CEO of The San Diego Foundation said: "SAIL is a gamechanger that actively engages nonprofits in a process of identifying innovative, market-based solutions toward greater financial stability. Strengthening our social safety net through solid business practices can ensure the provision of much-needed services to improve quality of life for our most vulnerable San Diegans."
Participating organizations include: Urban Street Angels, National Alliance of Mental Illness San Diego, i-SAFE Enterprises, YOU ME Clothing, Equinox Project, Blue Star Families, 4 Walls International, TutorChat, East County Economic Development Council Foundation and A Reason to Survive. Visit missionedge.org/labs.
• • •
The Certified Development Co. Small Business Finance, a California-based SBA 504 CDC Lender, Community Advantage Lender and Microloan Intermediary, has been selected as this year's Jody C. Raskind Award recipient. This recognition is presented annually by the U.S. Small Business Administration to a mission-focused lender that has distinguished itself in helping small businesses start, grow and expand.
Prev Next