TECH: TERADATA TAPS ANALYTICS TO TRANSFORM ITS BIZ MODEL
Co. Can Park Data Or Help It Drive Solutions
Thursday, April 26, 2018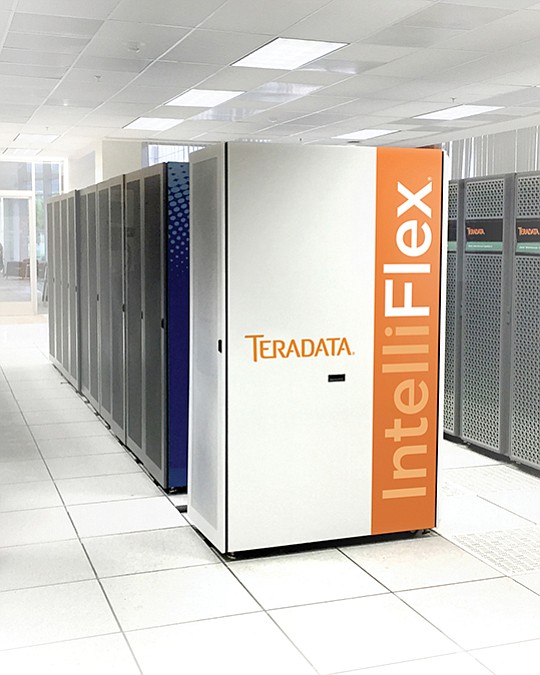 San Diego — Two rooms at Teradata Corp.'s offices in Rancho Bernardo, one of the publicly traded company's largest campuses, provide a quick visual approximation of the transformation the company is undergoing.
One houses rows of servers.
The other, dubbed Pulse, has a wall of monitors tracking real-time data — lots of it.
"We're no longer a company that's focused on just selling hardware, just selling infrastructure and services," said Reema Poddar, Teradata's senior vice president of product development. "We're more often partnering with our companies at the C-level, because that's where business drivers come into play."
It's the age of Big Data, and Teradata (NYSE: TDC) is in the midst of a bid to reinvent its reputation from that of a hardware firm to an analytics provider — and while based in Ohio, with offices in 44 countries, its large San Diego campus in Rancho Bernardo seems to be the nerve center of its ambitious transition plan.
Historically, Teradata has been known for its "data warehouses," systems used by big-business customers to crunch data and extract actionable insights.
Analytics Solutions
Now, as startups without legacy costs look to provide analytics solutions, too, Teradata is looking to rapidly leverage its historical know-how in an increasingly cloud-centric world with its own web-based offerings.
Teradata has been around since 1979, when it was launched in a garage in Brentwood. In 1991, the company was bought by AT&T and NCR Corp., a then-recent acquisition of AT&T's. Five years later, as part of NCR, Teradata became part of an independent publicly traded company when the firm spun off from the telecom provider. The companies split in 2007 and the Teradata business became a standalone company. Teradata then made a series of acquisitions in marketing applications, but the company sold that business in the summer of 2016 and turned its focus to analytics offerings.
Diverse Customer List
Teradata's customer list as of the end of 2017 cut across all industries; it was in business with tech giants such as Apple and Netflix, manufacturers such as Caterpillar and Ford Motor Co. and a range of retailers including Macy's and Wal-Mart.
The company employs more than 10,000 people, including roughly 1,000 in San Diego.
Teradata stores and crunches information, but it increasingly is looking to team its consultants, who are domain-area experts as opposed to strategy-focused, with its customers' leadership teams to unearth more salient business insights from the huge amounts of data it handles.
Prev Next