PROPERTY: PLANS EVENTUALLY CALL FOR 4,700 RESIDENCES
Affordable Housing Adds to Civita's Mix
Thursday, April 26, 2018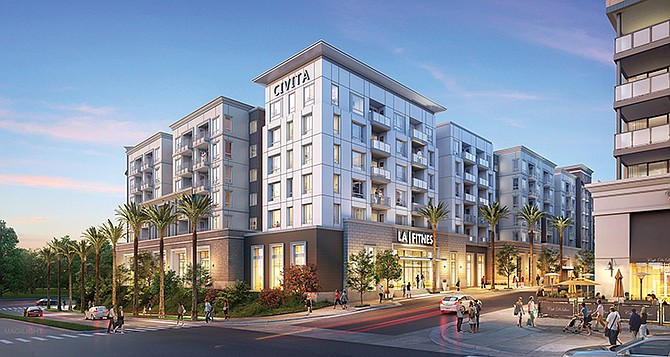 San Diego — Seven years ago, Sudberry Properties said it would take 10 to 15 years to transform a 230-acre former Mission Valley rock quarry into a master-planned community that would set the tone for what the future of San Diego could look like.
"There's probably another five to 10 years left to go," said Marco Sessa, the Sudberry senior vice president who is overseeing the $2 billion development of Civita. Originally known as Quarry Falls in deference to its history, Sudberry changed the name of the site to Civita, which the company said was derived from the Latin roots for civic and vitality.
Affordable Apartment Complex
The most recent addition to Civita is a $137.5 million affordable apartment complex — Siena Apartments for seniors over the age of 62 and Stylus Apartments for families — being built by Chelsea Investment Corp.
Chelsea will manage the apartments and Sudberry will manage 37,000-square-feet of ground-floor retail space, which will be leased to LA Fitness.
"It's the biggest affordable housing project in San Diego, new construction, that is," Chelsea Investment founder and CEO Jim Schmid said, at recent groundbreaking ceremonies.
The Siena/Stylus complex will have its own water reclamation system for irrigation.
Chelsea Investment also developed and manages Civita's first affordable complex, Versa with 150 apartments for seniors 55 and older.
Also under construction is the 434-apartment Purl, a two-building luxury market rate project adjacent to Siena and Stylus with 18,000 square feet of ground-floor retail space.
The first building in Purl, set to be finished in early 2020, will have 255 units with an additional 179 units planned for the second building, expected to be finished in 2021.
The Purl complex also will have two swimming pools and spas, an outdoor theater and terrace, music lounge and practice studio.
'Asset for the City'
Shea Homes was the first to build for-sale housing in Civita in 2011 with Origen, an award-winning condominium complex with 200 three-story and four-story loft-style townhomes.
"It's a real pleasure to see Civita come alive, with so many new residents occupying an excellent balance of housing opportunities. The Civita Park is a real gem and an incredible asset for the city," said Paul Barnes, president of Shea Homes San Diego. 
Shea also built the neighborhood of Frame & Focus, a 140-unit townhome complex built in 2013, and the 59-unit Lucent condominiums.
Other developers with for-sale projects in Civita include TRI Pointe Homes, builder of the Altana cluster of 45 detached homes, and Lennar, builder of the 58-home Apex cluster of single-family detached homes.
Prev Next