TECH: SERVICES INCLUDE MATERIAL SCIENCE AND FAILURE ANALYSIS
GA Lab Opens Doors to Companies Looking for a Little Analysis
Tuesday, April 24, 2018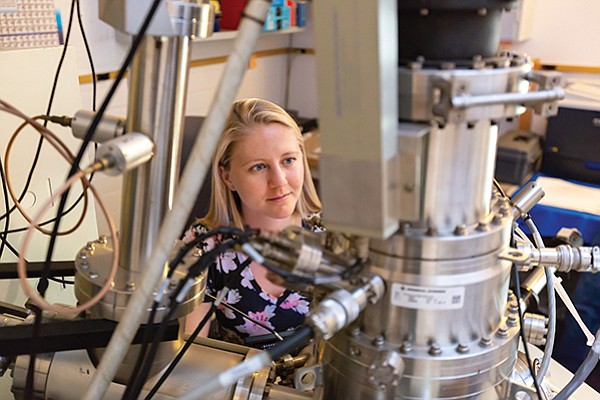 San Diego — For the past 20 years, General Atomics' Inertial Fusion Technology (IFT) Analytical Services Lab has been a well-kept secret in San Diego.
The defense contracting and high-technology systems company is hoping to change that.
It is not that the lab, which was built primarily to support internal General Atomics' projects, hasn't allowed companies access to it in the past. Only now the company is actively engaging San Diego companies.
"We're looking to really open it up to the greater San Diego, Southern California community and grow it," said Benjamin Russ, manager of the Advanced Technologies Group within IFT.
And with that, the lab is putting out a call to San Diego's businesses, big and small, to have General Atomics' tools and its cadre of scientists, chemists and engineers work for them.
Unique Access
The lab in many ways is the starting point in the search for data.
"Facilities like these will sometimes exist within large companies," said IFT lab Manager Emily Mathison. "Where we're kind of unique is we have … our own projects where we're continuing to expand our tool base for that, but then we also allow both small and large companies to come in with a quick problem, or a more serious problem that they maybe don't want to, or can't, for whatever reason, invest in the tools and the knowledge themselves."
Costs associated with the services are proprietary, however, but generally, services are billed by the hour.
While there are other analytical facilities in San Diego that deal with scanning electron microscopy — a fairly common instrument, according to Mathison, the IFT lab offers capabilities in metallurgy, 3-D X-Ray imaging of parts and the Auger (pronounced "Ah-Zhay") Electron Spectroscopy instrument that allows for quantitative elemental and chemical state information from surfaces of solid materials. The Auger is the only such instrument in San Diego now available for public use.
Detectives in Lab Coats
"You can't solve a problem until you know why you're having that problem," Mathison said.
That's where the lab's failure analysis service comes in.
Either a company has something they need to see in more detail: a surface feature, a problem inside the part, what elements or contaminants are present, or to find the source of a problem.
"We're able to see really small things, at really high resolution," Mathison said. "That's useful across a wide variety of industries."
The lab has examined everything from automobiles to aerospace parts to a lot of the small stuff in between.
"Material science is something that spans everything and not every company understands the degree to which material science can serve their needs and really help them with their competitive edge by understanding what it is they're working with," she said.
The Process
It all starts with a call.
If the testing is something the lab is able to accomplish, the companies would enter into a simple nondisclosure agreement.
There are no concerns of sharing anyone's proprietary information, either, assured Mathison and Russ.
"Since all we're doing is looking at something, there's very little IP (intellectual property) issues associated with it," Russ said. "What we're shown is kept confidential and what we tell the company is kept confidential."
And company personnel have the ability to sit in during the testing procedures.
"We are very open and welcome people coming in to help direct the analysis, while it's happening," he said.
The lab can be reached by calling (858) 455-4277.