This Is a Place of Inspiration, Poetry and Perfect Sunsets, of Course
Sunday, April 22, 2018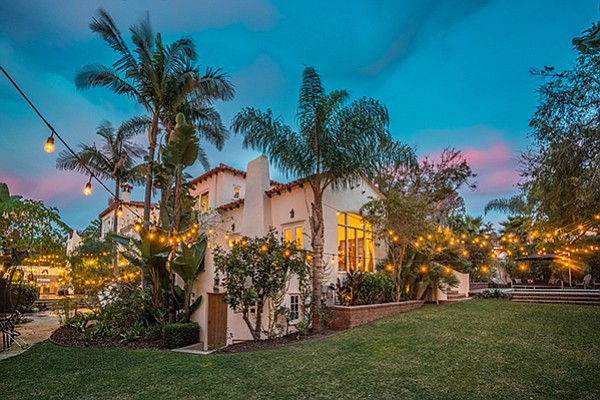 San Diego — For most people, a home is not just a financial asset, but rather it is a place where a family can create a backdrop for cherished memories throughout the generations. The doorjamb marked with pencil lines as the children grow, the trees planted as saplings that eventually grow large enough for a tree house — a place of joy, struggle, triumph, safety and comfort.
This is the soul of the home at 1004 Devonshire Drive in the Sunset Cliffs area of Point Loma. It's captivating from the moment you open the gate in the white stucco wall and step onto the stone courtyard that leads to the arched wooden front door.
Its historical roots are noted on the official City of San Diego plaque at the gate as the John Steven McGroarty Spec House No. 1, built in 1927 and designated as a Mills Act home in 2013.
Vivianne deFrance Ramirez and Cathy Nakanote, affiliate agents with the San Diego Metro office of Coldwell Banker Residential Brokerage, have the listing on the home that is priced at $3.95 million. It's approximately 4,606 square feet with five bedrooms, four baths on 0.4 acres.
"Being able to represent this property is an honor for me," Ramirez said. "Not just because of the property and the area, but because I value historic homes — especially in Point Loma."
Ramirez is passionate about historic homes and has a special affinity for Point Loma because it was where she lived when she first arrived in San Diego in 2006 from Orange County. Originally from Brazil, she is fluent in English, Spanish and Portuguese and has been in real estate since 2011.

The history of the Devonshire Drive home is an integral part of the development of the Sunset Cliffs area. In the early 1920s, John P. Mills, a successful Los Angeles real estate developer, bought 300 acres on Sunset Cliffs from baseball magnate Albert Goodwill Spalding and began developing it. In 1927, the John P. Mills Organization Inc., in partnership with Pantages, Mills and Shreve Co., set about to sell lots in an area they called the Riviera Villas.
Mills was quoted in a 1975 San Diego Union story by Carol Olten, a La Jolla Historical Society writer as saying: "I hired a special train to bring buyers to San Diego from Los Angeles," Mills recalled. "Put them under a big tent like at an evangelist meeting, fed them and lectured them about San Diego...it didn't take long to make a sale."
Prev Next