RETAIL: MACHINES INTERACT WITH CUSTOMERS, OFFER EASIER PAYMENT
Vending Machine Maker Bets You Will Select AI
Tuesday, April 17, 2018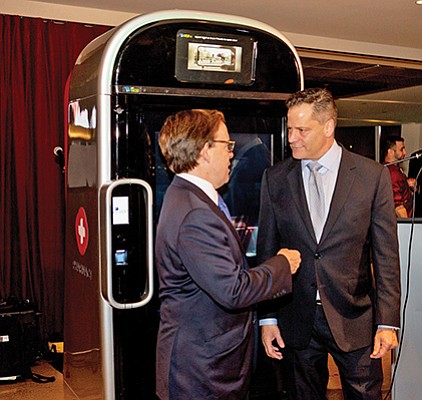 continued — The newest versions of the machines start coming off the line in the next seven weeks, Murn explained, with the machines delivered to customers in June, and a major roll out in the months following.
Directed Sound
In September, Murn expects some 600 of the machines to reach a number of universities, including UC San Diego, where he has been working with the school's sound department in directed sound technology. The technology, Murn explained, would allow for a less noisy, and more private shopping experience for the consumer.
This year the company expects about 4,000 machines to be rolled out.
That'll bring in about $35 million, Murn said. With software and other fees, about $38 million, he said.
Revenue will also come from a percentage of advertising — with content controlled by VTM — per the business customers' needs. Murn said customers will also be able to load original advertising content.
The list price for one machine is $10,000.
With volume, the price goes down, he explained, or, with options, the price will go up.
VTM, Murn said, is doing some custom machines that cost as much as $15,000.
Pre-orders last year started at 6,500. Now, he said, 8,000 machines have been preordered.
Some of the companies VTM is in talks with for the machine include Estee Lauder, Red Bull, 1-800-Flowers and Dollar General.
All told, to get Vicki where she is today took $7 million in startup revenue — money that came from Murn's personal capital and from major and smaller investors. Some of his major investors include First Data and Osprey Capital.
Having the Answers
Vicki will come loaded with several hundred answers that are most commonly asked about the products in question, Murn explained.
Some of those scenarios can be used for medications, including the amount of dosage that should be taken, or what SD Disk would be appropriate for a digital camera.
"We're trying to make all the little annoying things go away," said Murn, who admitted he hates waiting in lines and getting the wrong information.
Vicki will still accept payments via a credit card, but he said if you sign up using an app, you can just use your eye (iris scan) or your thumbprint to make purchases.
Better Ways to Pay
"Vicki's advanced technologies alone, such as the machine's thumb and iris scanning payment methods, will lead consumers to choose those machines over other run-of-the-mill vending machines," said Guattery of IBISWorld.