TOURISM: SEAWORLD OFFERS THRILLS; LEGOLAND MAKES HOTEL STAY FUN
Parks Pick Their Strategies for Drawing Summer Visitors
Tuesday, April 17, 2018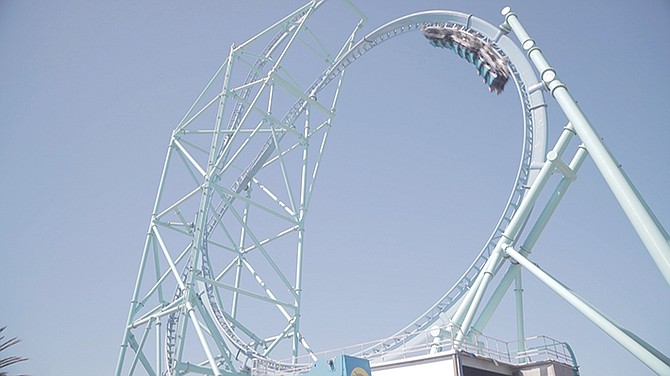 San Diego — SeaWorld, Legoland, the San Diego Zoo, and Safari Park San Diego theme parks have several new offerings lined up for the summer, peak season for these Southern California parks.

"What's interesting about the San Diego theme park industry, if you look at those four players in the last two years, they've made some big upgrades to all their respective theme parks," said Miro Copic, marketing professor at San Diego State University.
Some of these upgrades include Legoland's Sea Aquarium, the zoo's Africa Rocks exhibit, and SeaWorld's addition of thrill rides.
Increasing Attendance
Overall attendance at U.S. theme parks has increased in recent years. Latest visitor data available from industry trade group Themed Entertainment Association, indicated 148 million visits to the top 20 amusement parks in North America in 2016, up 1.2 percent from the previous year.
All top amusement parks in the association's global attendance report, which included Disneyland and Six Flags, showed an uptick in visits except for SeaWorld. Across the network of SeaWorld parks in the U.S., attendance was down 2.1 percent.
In the latest SEC filing, SeaWorld Entertainment reported hosting 20.8 million guests at its parks in 2017. The year prior the parks hosted 22 million.
Copic believes that San Diego theme parks will continue to see positive growth even though there's some uncertainty in the stock market.
As long as the economy remains strong, unemployment is low, and wages are increasing, visitors will still want to visit theme parks.
During the recession all U.S. theme parks did poorly except for Disneyland and Universal Studios which Copic said remained very desirable locations. Consumers are more likely to visit more than one theme park now that economy is in recovery. The Go San Diego Card and SoCal Theme Park Pass make this a bigger incentive, said Copic, allowing visitors to visit multiple parks and tourist destinations at a discount.
"And with the amount of new rides and attractions that all the theme parks in San Diego, that should encourage not only locals but tourists to go visit the parks," said Copic.

While still recovering from the backlash stemming from the documentary "Blackfish," which raised issues over SeaWorld's treatment of captive orcas, company CEO Joel Manby stepped down in February 2018 and was replaced with interim CEO John Reilly. In public filings, SeaWorld indicated this leadership transition was the best way to advance its progress.
Copic doesn't think that SeaWorld's troubles have affected San Diego's other theme parks as they have their own presence that draws people in. The San Diego Zoo, for example, has a strong international presence.
Prev Next