TECH: AI LIKELY TO BE NECESSARY PART OF CLEANING OPERATIONS
Brain Corp. Adds to Its Roster of Floor-Cleaning Machine Cos.
Tuesday, April 17, 2018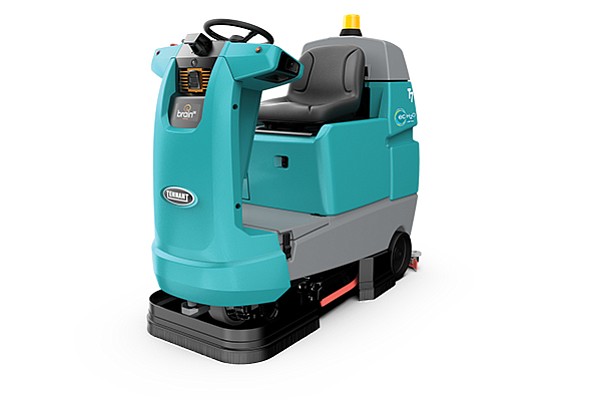 San Diego — Brain Corp., which makes artificial intelligence-powered navigation software that lets machines operate autonomously, has inked a deal with Tennant Co., a publicly traded Minnesota-based company that designs, sells and markets cleaning equipment worldwide.
The companies are developing an autonomous commercial floor scrubber expected to be available later this year.
Tennant Co. employs about 4,300 people and reported sales of $1 billion in 2017. The company's senior vice president of global marketing, Dave Huml, said Tennant has kept an eye on the potential impact of robotics on the cleaning equipment industry for years, only in the last few years has the technology matured enough to make it a viable option for customers.
Previously, "we didn't feel the industry was ready … it's not just about the robot, it's about changing the entire cleaning process," he said.
That's different now.
Managing Labor
"What our customers have been telling us consistently is, anything you can do to help me improve my ability to manage my labor is helpful," he said.
Managing costs associated with employees can be especially tricky in the cleaning industry, where high labor turnover is common.
"Many industries have moved toward more automated solutions, and so they see the technology yielding benefits elsewhere, and they ask themselves: Why not in cleaning?" he said.
Enter Brain Corp.
The San Diego-based company, once part of Qualcomm, is backed by Japanese conglomerate SoftBank's Vision Fund and Qualcomm Ventures, the chipmaker's venture capital arm. In 2017, the company raised $114 million from those entities in a Series C funding. Brain Corp.'s 100-some employees work out of an office in Sorrento Valley near the Qualcomm campus.
While AI isn't new, significant advances in computing power and the availability of large datasets have made the technology more attractive in recent years to businesses in industries from energy to health care to automotive.
AI Solutions
Major tech companies are in the midst of a race to acquire AI expertise; acquisition of AI startups rose nearly 44 percent in 2017 compared with the year prior, according to data from CB Insights. And AI talent is scarce.
"Tennant is a world leader in manufacturing cleaning equipment, but we're really not a world leader in artificial intelligence or robotics, so we knew that we would have to partner to gain that expertise and bring it to bear on our products and our industry," Huml said. "We've had an open dialogue with (Brain Corp.) and kept tabs on where they were going with their business model and their technology."
Prev Next