PROPERTY: NEED GOOD MANAGEMENT CO. TO DO IT SUCCESSFULLY
Developer Plans Possible Portfolio of Assisted Living Facilities
Thursday, April 12, 2018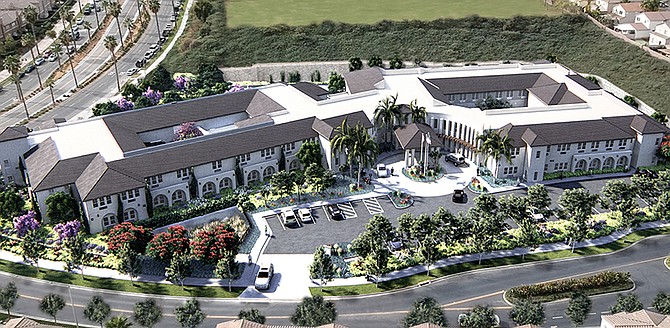 San Diego — With construction of high-end apartments booming in San Diego, developer Douglas Wilson thinks it's time for builders to look for something else.
"The people building these think you can keep pushing rents to the point that you can justify the increased cost of the land and the increased costs of building," Wilson said. "How many people can really afford $4,000 to $5,000 rents is something I am skeptical about."
Wilson's solution — build assisted living projects for an aging population that is growing dramatically as the baby boomer generation reaches and passes retirement age.
"We're really dealing with the reality of the aging population of this country, and because of medical advances, people are living longer," Wilson said.
The Demographics
SANDAG (San Diego Association of Governments) projects that the number of San Diego residents aged 85 and over in San Diego will increase by more than 200 percent by 2050.
Wilson's first project targeting older residents is the $31 million Sienna at Otay Ranch at 1290 Santa Rosa Drive in Chula Vista. A managing general partner in the company that developed Symphony Towers downtown, Wilson formed his own firm in 1989 and developed a wide range of projects across the country including a $190 million mixed-use project in Tempe, Arizona, and provided court-appointed bankruptcy receivership services to other companies that ran into financial problems.
Scheduled for completion later this year, the 110,000 square-foot Sienna at Otay Ranch will have 111 beds in a two-story, wood frame building, with 85 beds for assisted living and 26 beds for memory care residents.
Future Developments
"This is the foundation for us to be able to build a portfolio of these. We'd like to do five or eight of these in the next five years and continue to grow this into the future," Wilson said.
Sienna at Otay Ranch will have "every amenity you can imagine, from a theater to a library to a beauty salon, its own pharmacy, and a fitness center," Wilson said. "We think there is an unmet need in the future for well thought-out, highly amenitized facilities that offer great programs, great food and are comfortable."
Wilson is far from alone in seeing the aging population as a golden opportunity.
"I get a call from an apartment developer once a week (saying), 'I want to do senior housing now,'" said David Rothschild, executive managing director of Cushman & Wakefield's Senior Living Group in San Diego.
Prev Next