Deal is Key Driver For Revenue, IOT
Thursday, April 12, 2018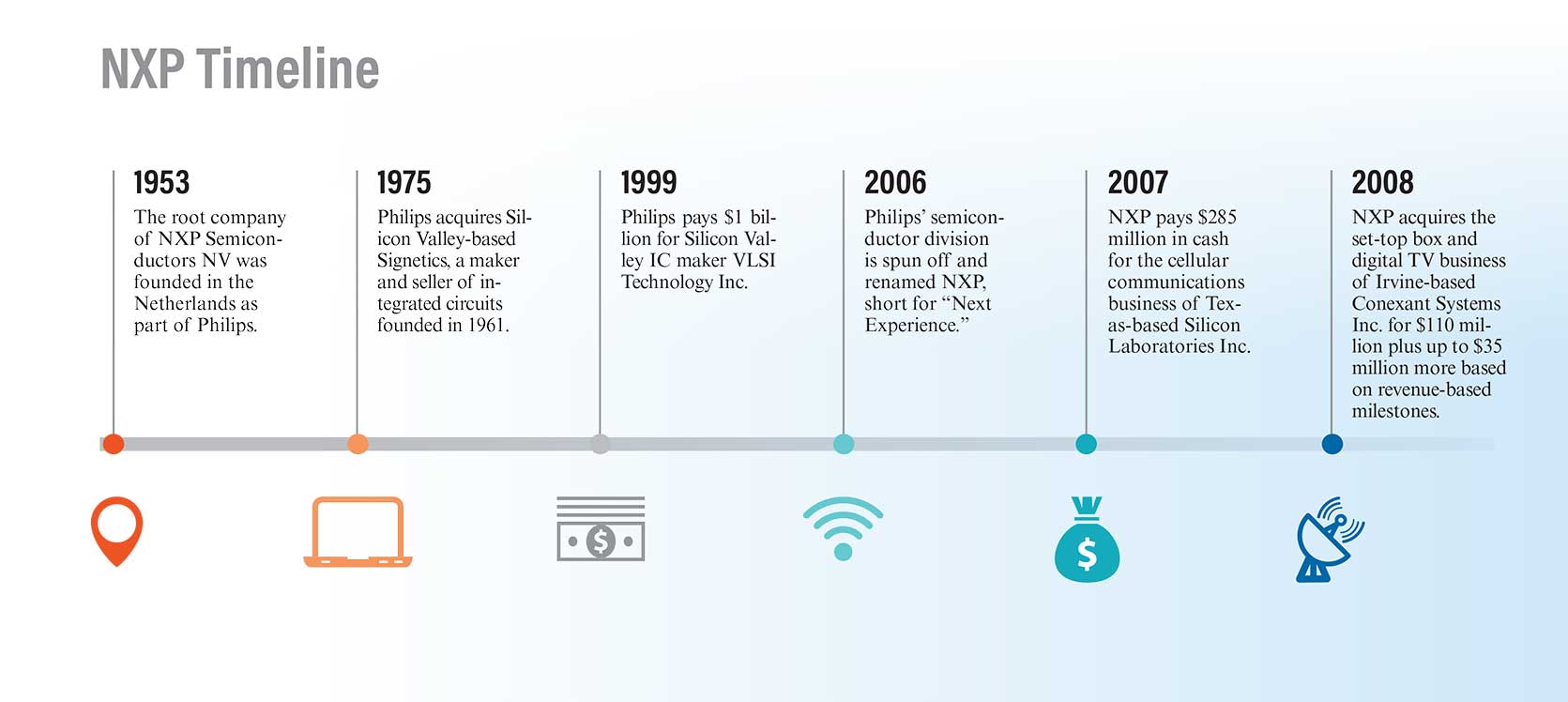 San Diego — Twice in two weeks, with Broadcom Ltd. closing in on a hostile takeover, Qualcomm Inc. issued an urgent message to its shareholders: Don't forget about NXP Semiconductors NV.
The first time was Feb. 22, when Qualcomm's board warned investors the Singapore-based chipmaker's bid of $79 per share undervalued the San Diego semiconductor giant's pending acquisition of NXP, the Dutch-owned leader in automotive electronics.
The second, more an attempt to reassure shareholders Qualcomm was fine without Broadcom, came in a March 8 news release saying it would raise dividends 9 percent and that the NXP deal would "further strengthen our foundation for future capital returns for our stockholders."
It can look like hype when a company repeatedly trumpets an unconsummated deal struck 16 months earlier. But all indications are that NXP really could give Qualcomm a profound boost.
Diversifying Revenue
Taking on NXP is expected to diversify Qualcomm's revenue base substantially while moving it firmly into fast-growing demand for automotive electronics, the internet of things and security.
Financed by $11 billion in new debt and the rest cash, the $44 billion transaction is expected to increase earnings immediately and result in an estimated half billion dollars in annual cost savings.
It won't be easy to pull off, though, even apart from what has turned out to be an extended antitrust review process. The deal was announced in October 2016, and as of the middle of last week, it still hadn't received the necessary nod from Chinese regulators.
Unfortunately, the same qualities that make the deal attractive — it brings together two companies serving very different parts of the global semiconductor market — could also make it tough to align on the operational side.
A Transformational Deal
"This is transformational" for Qualcomm, said Stacy Rasgon, senior analyst for U.S. semiconductors at New York-based AllianceBernstein LP. "They've never done a transformational deal before."
Probably the deal's biggest benefit is implied in its diversification. Taking on NXP would lessen Qualcomm's heavy reliance on a relatively few, increasingly restive manufacturing customers in the slowing smartphone market.
When Qualcomm announced the agreement, it estimated the deal would reduce the share of its revenues coming from mobile products, from 61 percent to 48 percent.
Licensing proceeds would decrease from 31 percent of Qualcomm's total revenue to 23 percent, the company said, while sales from the category including automotive and the internet of things — two relatively fast-growing segments — would jump from 8 percent of revenues to 29 percent.
Prev Next