AIRPORT: OFFICIALS SEE FRANKFURT AS A KEY HUB FOR EUROPEAN TRAVELERS
Lufthansa Flight Is Latest Lift in International Passengers at SAN
Sunday, April 8, 2018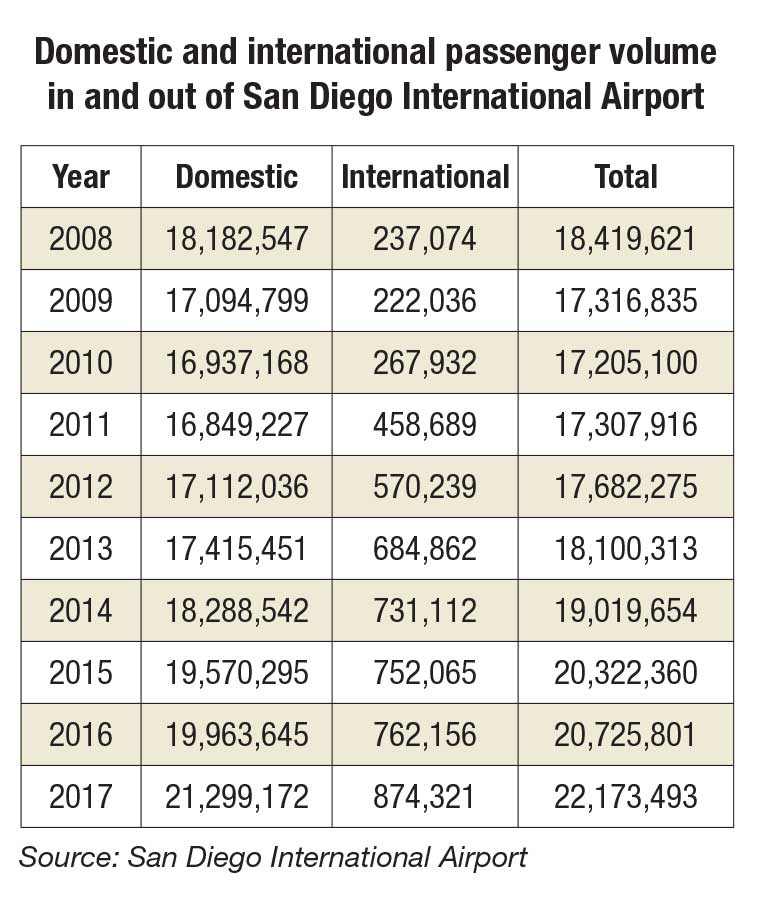 San Diego — San Diego International Airport has few changes in its international flight offerings: German airline Lufthansa Group began a direct Frankfurt to San Diego flight starting March 22. Edelweiss, Lufthansa's Swiss subsidiary, resumed its direct service between San Diego to Zurich between April 2 and Nov. 12. And San Diego will lose nonstop service to Mexico City in mid-May.
Meanwhile, the San Diego Tourism Authority and airport officials continue to work on plans to improve international travel in and out of San Diego, linking the city to desirable destinations like Latin America and China.
Lufthansa's Frankfurt flight is the seventh direct international flight available from San Diego International. Other flights include London, Tokyo, Zurich, Calgary, Los Cabos, and Mexico City.

Lawrence Ryan, senior director of U.S. sales for Lufthansa Group, said Lufthansa monitored the market and determined that there was a demand for both leisure and business travelers to come from Europe to San Diego.
"We presently have customers in Europe who travel to San Diego regularly either via Los Angeles (or) via one of the hubs in the U.S.," said Ryan, adding that corporate demand is there and business travelers were looking for a better solution. Frankfurt has one of the biggest and busiest airports in Europe.
The direct flight will be available five times per week, on Monday, Tuesday, Thursday, Saturday, and Sunday. Flights are scheduled to depart San Diego these days at 3:05 p.m. and arrive in Frankfurt at 11:20 a.m.
Lufthansa Group announced last year it would be adding this direct flight to its service. The announcement came after German company Condor Airlines stopped offering its Frankfurt to San Diego nonstop in September 2017.
Making the direct San Diego to Frankfurt flight happen took years for Lufthansa and San Diego travel authorities.
"It's a process, it's not something that can happen overnight," said Joe Terzi, CEO and president of the San Diego Tourism Authority.

Terzi says the Tourism Authority came on board with the project this past year and worked on marketing San Diego as a destination in Germany. For past direct international flights, the body spent around half a million dollars marketing British Airways' direct London to San Diego flight overseas and more than $300,000 marketing Japan Airlines' direct Tokyo to San Diego flight in Japan. The authority has spent $250,000 marketing Lufthansa's flight overseas so far but expects it might spend more.
Hampton Brown, senior director of air service development at San Diego International, said Lufthansa was provided with several different profiles and business cases on San Diego to aid its decision. The airport worked with the San Diego Regional Economic Development Corp., the World Trade Center, and the Tourism Authority to put together profiles on San Diego's demographics, its corporate make up, and leisure market to present to Lufthansa.
Prev Next