Cottages Will Take You on a Magical History Tour
Sunday, April 8, 2018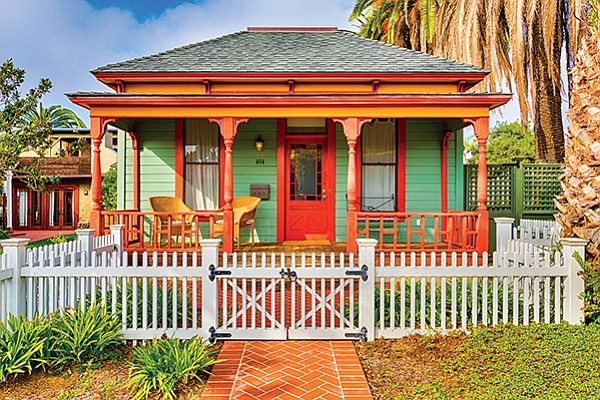 continued — The home, historically designated as the Rhoads House in 1978, is the largest of the three. Originally built in 1917 and designed in the Craftsman Bungalow style, the home was meticulously restored and expanded in 2006 and is now approximately 3,090 square feet with four bedrooms, three baths and a semi-attached guesthouse.
The Schaelchlins then moved the Yellow Cottage to the Heritage Place property in 1979 from 7831 Ivanhoe Ave. The "Yellow Cottage" is a Victorian Vernacular style home that was built in 1895 and is historically designated as the Galusha B. Grow House. Galusha Grow was once well known in San Diego banking circles and was also a fire commissioner. The house is now a restored two-story home with 1,000 square feet, two bedrooms and one-and-a-half baths.
The last house to be moved to the property was the Martha Dunn Corey house, a Victorian Bungalow-style home that was built in 1909. During its lifetime it is believed to have been moved several times before it found its permanent spot at Heritage Place in 2003. It has a redesigned interior of approximately 745 square feet with an open floorplan and a loft-style bedroom. The Corey house was home to La Jolla's first female doctor and also served as her office.
Marrone said the current owners worked with the historical resources board and did everything to the secretary of the interior standards — the standards required to remodel, restore or rehabilitate a historic structure. All three houses have newer plumbing, foundations and electrical.
"Each of the people who have been looking at it has a different way of how they would use it," Marrone said. "Some of them are looking at living in the large house that has more than 3,000 square feet and a guesthouse and then renting out the two smaller cottages as long-term rentals."
Other couples are considering it as a family compound and renting out the cottages if they aren't there, in keeping with the original vision of the Schaelchlins.
Marrone said there have also been a number of calls from people interested in it as an investment property "because it's listed in the MLS as a single-family residence and also as residential rentals."
"It's one of those (properties) that each person that has come in has looked at it with a different set of eyes; it has all those options," Marrone said. "This neighborhood is so close to the beach and downtown La Jolla; it's an ideal location."
Send luxury real estate items to sglidden@sdbj.com.
Prev Next