TRAVEL: HOTEL TO BE TOURIST, ECO AND BUSINESS FRIENDLY
Town and Country To Be 'Back in Play,' Boosting Mission Valley
Wednesday, April 4, 2018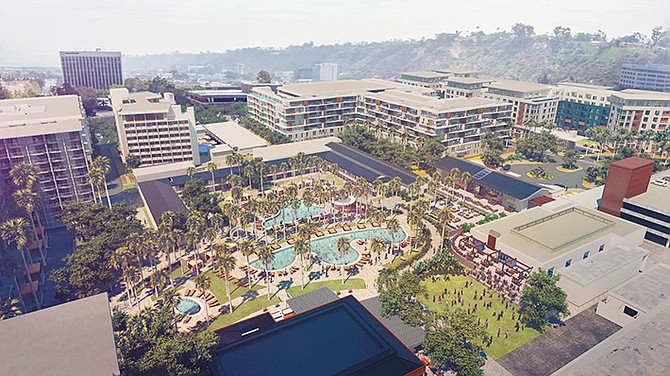 San Diego — A dramatic $80 million redevelopment of the Town and Country hotel resort in Mission Valley is set to begin construction in the third quarter of this year.
The San Diego City Council on March 20 approved rezoning the 39.72 acre site along the San Diego River after labor union leaders withdrew their objections, clearing away the final hurdle to a project which developers said will restore the luster to an aging hotel property that began as a 46-room motel in 1953.
The redevelopment will cut the number of hotel rooms from 954 to 700, reduce conference space from 212,762 square feet to 177,137 square feet, and include an 11,400 square-foot new hotel lobby along with a restaurant, café and a new 467-space parking garage for the hotel.
It also would add up to 840 residential units that would have their own parking structures with 1,287 parking spaces.
To make room for the new housing, 27 existing structures would be demolished.
The redevelopment also will restore 8.1 acres of native habitat, include a new 3.3 acre public park and a 2,500-foot long, 14-foot wide pathway along the river, linking with an existing trail.
"This project will restore a hotel and convention center legacy that many other hotels in Mission Valley are dependent upon," said Todd Majcher, vice president of destination and development for Lowe Enterprises, which formed a joint venture in 2014 with the Los Angeles engineering firm of AECO and Atlas Hotels to redevelop the property.
"By right-sizing the hotel, it can succeed in the future and continue to provide an estimated $200 million in TOT (transit occupancy tax) over the next 30 years," Majcher said.
Over time as the hotel grew, it developed in sort of a mish-mash of styles.
A More Uniformed Appearance
Aesthetically, the redevelopment is aimed at presenting a more uniform appearance.
"Our goal is to create more visual consistency across the hotel which will increase the attractiveness of the hotel for the community," Majcher said.
Although some of the older buildings will be razed, Majcher said most of the major structures will remain, including the conference center, the 324-room, 10-story Royal Palm Tower; the 207-room, nine-story Regency Tower and 106 of the garden style rooms.
Redevelopment of the hotel portion of the project is scheduled to finish by the second quarter of 2020. Construction of the residential portion is set to start in the first quarter of 2019 and finish sometime in 2022.
Prev Next