TRAVEL: HOTEL TO BE TOURIST, ECO AND BUSINESS FRIENDLY
Town and Country To Be 'Back in Play,' Boosting Mission Valley
Wednesday, April 4, 2018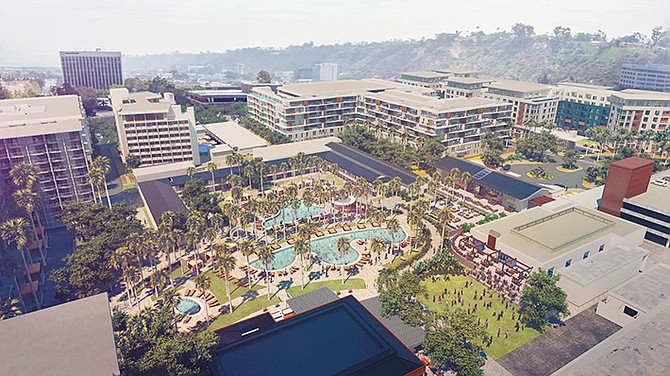 San Diego — A dramatic $80 million redevelopment of the Town and Country hotel resort in Mission Valley is set to begin construction in the third quarter of this year.
The San Diego City Council on March 20 approved rezoning the 39.72 acre site along the San Diego River after labor union leaders withdrew their objections, clearing away the final hurdle to a project which developers said will restore the luster to an aging hotel property that began as a 46-room motel in 1953.
The redevelopment will cut the number of hotel rooms from 954 to 700, reduce conference space from 212,762 square feet to 177,137 square feet, and include an 11,400 square-foot new hotel lobby along with a restaurant, café and a new 467-space parking garage for the hotel.
It also would add up to 840 residential units that would have their own parking structures with 1,287 parking spaces.
To make room for the new housing, 27 existing structures would be demolished.
The redevelopment also will restore 8.1 acres of native habitat, include a new 3.3 acre public park and a 2,500-foot long, 14-foot wide pathway along the river, linking with an existing trail.
"This project will restore a hotel and convention center legacy that many other hotels in Mission Valley are dependent upon," said Todd Majcher, vice president of destination and development for Lowe Enterprises, which formed a joint venture in 2014 with the Los Angeles engineering firm of AECO and Atlas Hotels to redevelop the property.
"By right-sizing the hotel, it can succeed in the future and continue to provide an estimated $200 million in TOT (transit occupancy tax) over the next 30 years," Majcher said.
Over time as the hotel grew, it developed in sort of a mish-mash of styles.
A More Uniformed Appearance
Aesthetically, the redevelopment is aimed at presenting a more uniform appearance.
"Our goal is to create more visual consistency across the hotel which will increase the attractiveness of the hotel for the community," Majcher said.
Although some of the older buildings will be razed, Majcher said most of the major structures will remain, including the conference center, the 324-room, 10-story Royal Palm Tower; the 207-room, nine-story Regency Tower and 106 of the garden style rooms.
Redevelopment of the hotel portion of the project is scheduled to finish by the second quarter of 2020. Construction of the residential portion is set to start in the first quarter of 2019 and finish sometime in 2022.
Union Concession
The project is getting a late start, in part due to a push by Unite Here for assurances that no jobs would be lost as the size of the hotel shrinks, and that hotel owners wouldn't try to block any efforts to unionize workers.
Although "no business can guarantee employment," Majcher said that "our stated goal is to maintain current employment levels both through and post hotel renovation."
The redeveloped hotel would likely need the same number of workers because service will be upgraded as the hotel strives to become a higher-end resort, Majcher said.
A labor union dispute is still holding up a downtown San Diego project — the $400 million 7th & Market development by Cisterra that would include a Ritz-Carleton hotel, a Whole Foods grocery store, office space and a mix of apartments and condominiums.
A San Diego Superior Court judge in October ruled in favor of Cisterra but San Diegans for Responsible Planning has appealed and the project manager, Jason Wood, said a court date has yet to be set.
C. Terry Brown, whose father, Charlie Brown, built the original Town & Country, said "the hotel was a little tired" and had trouble in recent years in competing with newer hotels.
Getting 'Back in Play
After newer lodgings cut rates when the recession hit in 2008 and 2009, "We needed to do something to get back in play," said Brown, chairman and president of Atlas Hotels.
"We're actually going to move it up a notch. It will be a four-diamond facility. Before, you'd characterize it as three-diamond," Brown said. "Everything will be brand new."
Right now, Brown said about 85 percent of the hotel's business is from conventions, but he's hoping the renovated hotel will draw more vacationing families.
"We'd like to see that closer to 60/40, so it's a more even flow of business," Brown said. "With conventions, you're either full or empty."
Colin Parent, executive director of MOVE Alliance, said the redevelopment plan for Town and Country is an example of the so-called smart growth his organization was formed in 2012 to promote.
It provides needed housing within walking distance of a transit center at Fashion Valley Mall, contributes to a linear park along the river, has trails and paths for walking and biking and reduces traffic, Parent said.
"We're in a housing crisis, so any opportunity to build new homes is a win for the region," Parent said. "This is the kind of project we're going to need to see more of in San Diego in order to make greenhouse gas reduction goals in the (city) Climate Action Plan. It's less traffic and it's locating housing near transit. That's a real key feature in the Climate Action Plan, seeing more of this kind of development near transit."
The Team
Reno Contracting will be the general contractor for the river restoration, public park, street improvements and hotel renovation. Holland Partner Group will be the general contractor for the residential portion of the project.
Gensler is the architect for the hotel redevelopment; Carrier Johnson + Culture the architect for the residential work.
Others working on the project include AECO Technical Services, Burton Landscape Architects, MIG, Linscott Law & Greenspan engineering, Fuscoe Engineering, Michael Wall Engineering, McParlane and Associates, Utility Specialists, Change Consultants, HFS Concepts 4, SCS Engineers, and Burkett and Wong Engineers.